An invoice, bill or tab is a professional document that provides knowledge of payment by the seller to the buyer for the exchange of products and services provided. Invoice is of much importance in a medical institution. Medical invoice is important for both who runs a small clinic or a standardized hospital.
Doctor's invoice, Medical invoice or Medical bill is an invoice prepared by doctor, physician, medical expert for payment of services or treatments in detail provided to the patients by them at the discharge time specifying the amount of expenses.
Medical invoice not only provides information about transaction details about the patients but also keeps a record of patients for future use at the clinics and hospitals.
Similarly, Medical invoice also provides information about insurances of the patients and as well as the means to contact the patients in the hour of need.
In case patients want any kind of refunds and compensation Medical invoice is a must to have
Details included in Medical invoice:
Date when the services were provided
Payment
Grand total or the total fee to be paid. (can be edited)
Copay (can be edited)
Insurance (can be edited)
Contract (can be edited)
Grand total (auto-calculates as = Total fee – Copay – Insurance – Contract).
Patient information (height, age, medical history)
Name of the doctor
Mode of payment
A LOGO is mostly placed at the top of the invoice which illustrates the information and symbol of company, organization or clinic.
Mostly at the top right details about invoice number and date are mentioned
At the bottom, various checkboxes depict information regarding payment methods and its types. Signature and date field are used mostly for handwriting purposes
Medical care for infants, children, and teenagers:
For invoices where families are involved and children have a guardian, two type of information are mostly mentioned. One is 'Bill to'- guardian (who pays the bill) and 'ship to'- patient information
Medical invoice can further be divided into
Medical Supply invoice
Medical Cash invoice
Medical services invoice
Medical bill invoice
Most of the medical invoices today are computer based and are easily used by doctors.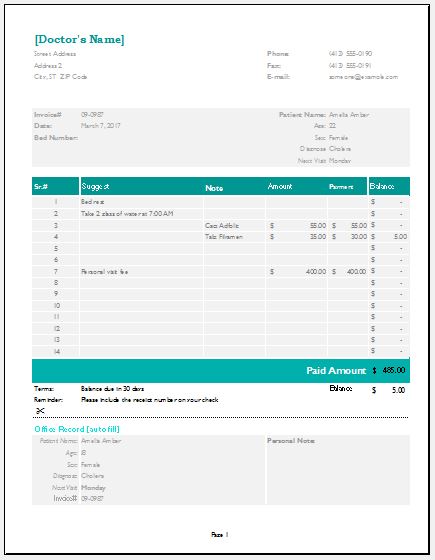 Doctor's Invoice Template
Download for MS Excel
Download for OpenOffice
---