Different construction companies work to provide their construction-related services to their clients as construction is a complex job and only experienced and skilled people can get it done. However, construction work is not affordable for many people, they often ask service providers to write them a quotation. This way, they can check if the particular construction work is affordable for them or not.
What is a construction quotation?
It is a formal document prepared by a construction company for a contractor who wants to know the price of the material and charges for the services. It includes a description of the cost of the construction material and service charges.
Construction quotation for an estimate of the cost
When you write the quotation for the work you do, you give a very precise estimate of the cost the customer will incur if he chooses to buy services from you. When you write this document, you give a clear and transparent picture of how much it will cost the contractor to render your services. With the help of this, you can easily avoid several types of disputes that may arise later.
Writing quotations to win the competitors
You need to know that you are likely to succeed in winning over your customers if you write the quotation in the right way. Even if you charge more than others, the way you outline the pricing details can be so impressive that people can prefer you over others. Read the tips given below and see how writing a quotation document can be helpful for you:
Try to remain truthful:
As you know, this document of yours written on behalf of your company can cause you to make or break the deal. So, you should not feel fear and write the true price quote. For instance, you don't need to tell less price just to attract the customer and then increase it when the customer agrees to make a deal with you. With this kind of behavior, you will lose your credibility and your clients will never trust you again in the future.
Give precise estimates:
Some people are not sure about the cost estimates, and they make a rough guess in the quotation document which is never recommended. You may have to do some homework to reach an accurate estimate, but you will be able to get away with the trouble once you do it accurately.
Consider the market rates:
You should know that you are a service provider, and you need to be aligned with the market so that you don't feel left out. Your rates should be realistic and reasonable. If you have put a quotation that you think is not ordinary, you should have a strong rationale behind it.
What information should be provided?
If you want to write a quotation document that is valuable for the customer, you should know what information this document should include. The most common information is:
Date of writing the construction quotation
List of services provided by your construction company
Cost of each service
Terms and conditions of buying the services from the company
Is using a template useful?
If you are running a construction firm and your job is to send quotations to different people, it would be a pain for you to create this document over and over again. However, if you can use the template, you can easily find yourself feeling relaxed as you will have a tool that will help you create the sheet and then use it to manage multiple quotations at a time.
The objective of this template is to make the process of writing the quotation for any customer a seamless process so that people don't have to run away from writing quotations and focus more on the content than the format. It will be even more beneficial for those who have to write quotes quite often. All they need to do is choose a desirable format in which they want to see the quotes and then send it out to targeted people.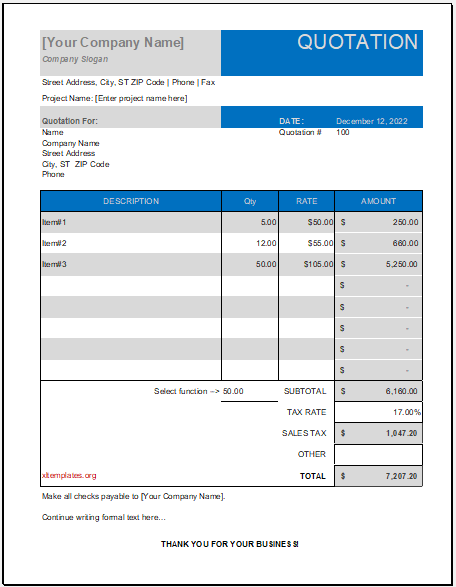 More templates…
---