Starting a new business at first seems like an exciting idea, but as you practically move towards transforming this idea into reality, you realize that it is a daunting task, especially for those who have no prior experience starting a new business.
Although it is an overwhelming idea to start a salon business, you should not feel insecure, as there are so many people in the same boat. Knowing what to do and then knowing how to do it is a key to success. For this purpose, people who are in the startup phase create a checklist even before they have hammered out a plan to follow.
What is a salon startup checklist?
It is a list of things to do for the successful start of a salon business. It is an instrument that is created and used to aid people in efficiently starting a business.
When you are thinking of opening a salon, there is so much to remember, which is very stressful. To prevent yourself from stressing out, you can use a checklist in which all the things that need to be done are mentioned.
What is the purpose of a beauty parlor opening to-do list?
All those people who are dreaming of opening a parlor but have no idea how to do it often use a to-do list that makes them independent enough to do it alone instead of getting help from an expert. Not only in the beginning, but you can also use it when you are in the middle of the project to determine how much work you have done and how much is yet to be done. In short, you can also monitor the progress.
When you can create and use a checklist, you become less worried because it makes you aware of everything you need to do. Somewhere in your mind, you also get an idea about how to do it, and so you feel less anxious and more relaxed.
How do I create a checklist for starting a new salon business?
To list down all the things that you should do for the successful beginning of a new business, you should take the following steps:
Plan everything well
A checklist is an overview of your plans that you want to transform into reality, and you have divided them into various tasks to be accomplished. In short, a checklist cannot exist without a solid plan. Therefore, it is essential to plan out everything beforehand and then start organizing a list of things to do in a proper sequence so that you don't face any difficulty while working on it.
List down the things to do for operational setup
There are so many tasks that need to be accomplished when an operational setup is to be done. Finding an appropriate location, checking the suitability of the area, discussing the rental amount if the location is on rent, and several other tasks are part of the operational setup. The checklist reminds you to walk through each and every step to make sure that the operational setup is done efficiently because it can lead to the failure of the business otherwise.
Take care of legal requirements
Many people open a new business but completely forget the legal requirements. Due to this, they have to face serious consequences, such as getting their business sealed, which leads to ruining the reputation of the salon. Therefore, it is important to get information about licensing and from where to get it. Your salon should show compliance with the rules and regulations of the state in which it is going to be operational.
Make a list of equipment
In the first phase of opening the salon, you will have to purchase equipment. There is a long list of equipment that you will need. Make sure the list is comprehensive and includes everything. The checklist will let you know when to purchase the equipment, as it contains all the things to do in a proper sequence, and people never face any problems.
No matter if you buy branded equipment or from a local store, you should list down all of them, and if you don't have enough money, you can plan to purchase them later. However, it is important to mention them on the checklist.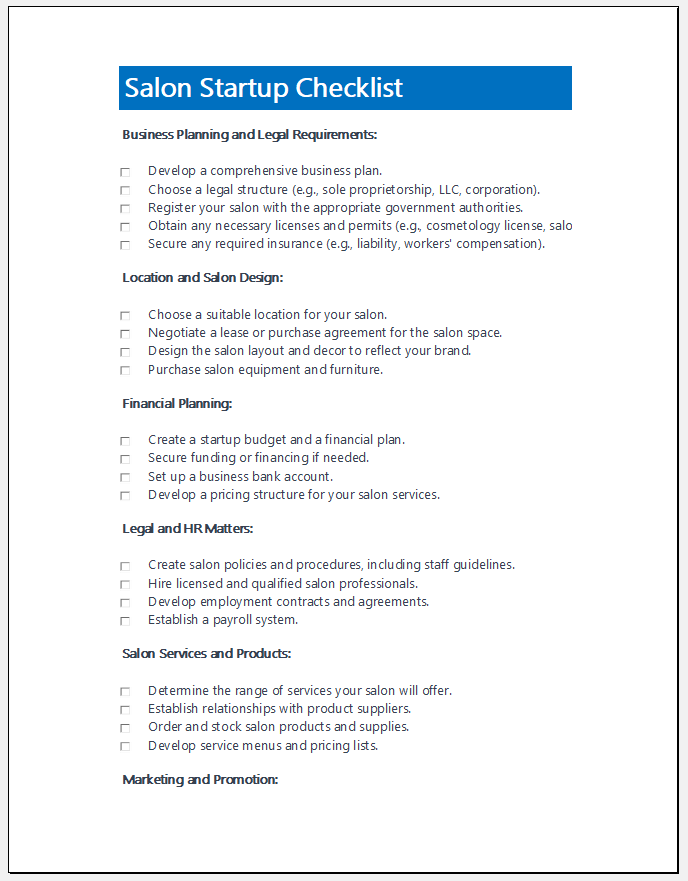 ---