A dental service bill is used in the dental clinic by dentists in order to bill the patients who come to the clinic to receive a different type of services. The services which are usually rendered by the patients include the regular check-up, thorough cleaning of teeth, whitening treatment of teeth, fillings, plaque removal and lots of other treatments.
The dental service bill enables the patients to know about the exact cost of the service rendered by them. This dental service bill is also helpful for the patient since they can avail of several types of medical allowance from their job by showing the dental service bill.
How to make a dental service bill?
It is very easy to create a dental service bill if you know the details to be added. The details may vary from clinic to clinic. You can also add the details in the bill according to your business.
This service bill is usually prepared in MS Excel format. Here are a few steps following which can let you create a professional-looking dental service bill for your dental clinic.
Enter the name of the clinic, contact details and complete the clinic's address at the top of the bill.
Enter the name, contact details and complete address of the patient
Write the name of the doctor who is treating the patient along with the type of procedure he is conducting. Also, mention the date and time when the procedure was conducted
Enlist the names of all the medicines and items which have been used during the procedure. The items, as well as the medicines' price, should be mentioned in the dental service bill.
The name of the service associated with each procedure such as x-rays should be entered into the dental service bill.
Leave some space at the end for comments.
A template for dental service bill can be downloaded from the internet that makes the billing process easier. These templates are highly customizable that enables the user to add or remove certain details to make it suitable for the business.
Preview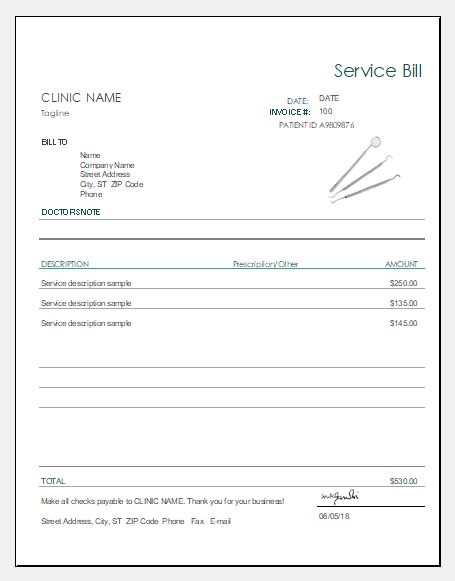 The template
Format: MS Excel 2007/2010 [.xlsx]
Download
[Restricted use]
---