Every time you provide cleaning services to the house of your client and you want him to pay you, you can use the house cleaning service bill. This bill is the best and professional way to ask your clients to clear all the payments.
House cleaning service bill enlist all the cleaning relates services that you have provided. It also includes the rates at which you are giving your services as well as the products that have been while providing services.
Here are the key elements of a service invoice
Name of house cleaning business
Your name and contact information
Name and contact information of your clients
After giving the basic information about yourself and your business, describe the services that you have provided. The price of each service, as well as the product that was used while cleaning, should be mentioned clearly.
Once you have mentioned all the services provided by you and their charges, don't forget to total them at the bottom of the invoice.
You may also be needed to add sales taxes to the total bill depending on where you live. You can also mention the grand total after the total that will be a message for your clients to pay you as soon as possible.
Some cleaning service providers add instructions at the end of the bill they issue. The instructions include the payment method, the deadline to pay the bill and a lot more. It is very important to let your client know how important it is to pay you on time.
The cleaning service providers issue this bill to their clients as soon as they finish the work. It is always recommended to prepare an invoice so that you and your clients can keep the written record of all the services you have provided.
With the help of this invoice, you can check the progress of your cleaning services business. This invoice is also very useful to know if your clients are paying you appropriately.
The following is given a sample template for the house cleaning service bill. The template is prepared by professionals. It has all the necessary features that one may need to utilize the bill in a formal way. You can download the template for personal use only.
Preview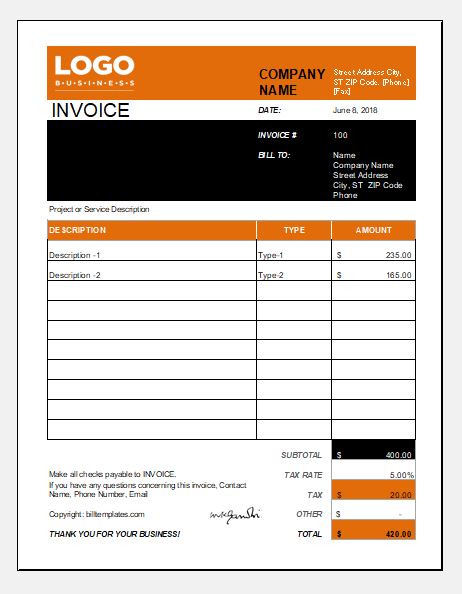 The template
Format: MS Excel 2007/2010 [.xlsx]
Download
[Restricted use]
---