Tow service is provided by tow vehicle that works by moving the disabled, faulty or improperly parked vehicle. Sometimes, the tow service becomes very crucial for a person when he/she wants to move the vehicle to a driveable surface from the area of the accident.
The companies that provide tow services mostly use tow truck which moves multiple vehicles at a time. After the tow service has been provided, the tow service provider issues the tow service bill.
What is the tow service bill?
A tow service bill is a formal document which is used to document all the tow services provided by the service provider. The cost of each service provided is mentioned in the bill. The primary purpose of using this bill is to request the client to pay the service charges.
The tow service is very beneficial for people as it makes them get out of hassle that they may have to face in towing experience. The purpose of taking the towing service is to get the vehicle moved to a safer area with complete convenience.
When the services are provided to clients according to their expectations, they get ready to pay the cost of towing services.
What are the key elements of tow service bill?
The crane or truck number providing tow service
Date of providing service
Time of service
Address of the business
Repair location
Name of the client
Contact details and address of the client
Description of the vehicle that has been moved
A tow service bill template can be used by those service providers that want to request the payment after providing the services.
The template enables the user to document the tow service details in it without being worried about the format of the bill and details to be included.
The total cost associated with the services is also entered in the template with ease. The template calculates the bill automatically. The purpose of this template is to provide a professional looking document that can keep the customers and service providers aware of the total bill.
Preview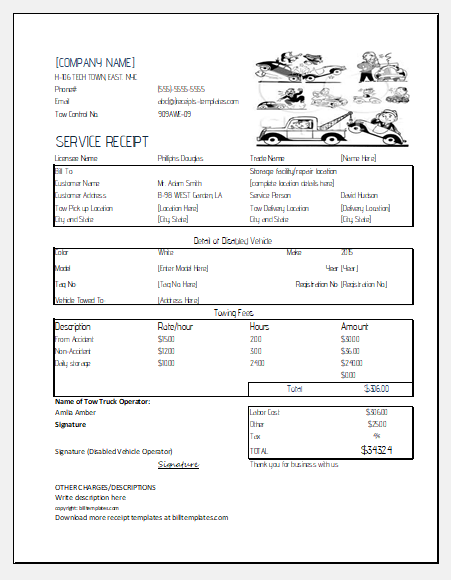 The template
Format: MS Excel [.xlsx]
Download
[Restricted use]
---