Whether it is your property or accessories, it is always very important to provide cleaning to anything that is in your possession. Many businesses invest a lot of money in getting cleaning services.
The cleaning industry has also become very diversified and there are many companies working to provide cleaning services ranging from industrial cleaning to domestic cleaning.
The cleaning services that are usually provided include cleaning or floors, windows and other premises when it comes to cleaning the house or any building.  A cleaning process requires several types of equipment as well as manpower.
The company that provides cleaning services charge their customers for everything from labor work to equipment used.
What is cleaning services bill template?
This template is a professionally used worksheet of MS Excel which has been designed for cleaning services providers so that they can request for the money they need in return. This template is very helpful for you if you want to prepare such a billing document that can document all the services that you have provided along with the charges of every service.
When you are providing all the details in a single document, you are clearing out everything between you and your customers. There is no chance of getting misunderstood by your customers. Moreover, the calculations in this template are also done through pre-defined formulas of Excel. Downloading a readymade template of the bill from the internet is very cost effective.
When it comes to billing, it gets complicated as your business grows. Gone are the days when people would use paper and pencil to prepare the bill. This was very time consuming for the people to prepare a bill for each customer individually.
Now, with the advancement in the field of technology, the billing has become very easy as people can do it easily on their personal computer or other digital devices. The template for cleaning service bill is also a very handy tool that you can use in your personal computer. You can also print the template when you want to hand over a hardcopy to your customers.
Preview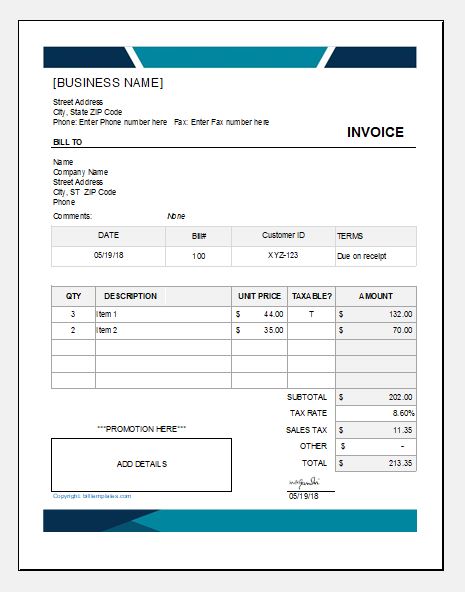 The template
Format: MS Excel 2007/2007+ [.xlsx]
Download
[Restricted use]
---