Cleanliness is the most important part of the day-to-day routine for a business, especially when its services include selling different eateries to its customers. When it comes to buying baking products from a bakery, people usually go for a more trustworthy store.
A bakery is expected to produce food items by taking all cleaning and hygiene practices into account. If you are running a baking products store, you should pay attention to its cleanliness so that you can claim that your products are clean and people can eat them without questioning their hygiene.
What is a bakery cleaning checklist?
To attract customers to your baking business, you should make sure that your store is squeaky clean. When a customer enters a clean and hygienic environment, he feels no fear of buying food from that place.
For example, glass shelves on which different products are displayed should be clean without any stains so that people can view the product more quickly and feel the urge to buy it.
A checklist is a list of things the cleaning staff in a store needs to do to keep the place neat and tidy. There are often a lot of things that a bakery might need to have done by the cleaning staff so that it remains a safe and tidy place.
A dirty place, particularly the kitchen where things are prepared, can be home to many diseases and infections. It is against morality to use a dirty place to prepare food for customers. Therefore, one should always try to use a to-do list that can keep him on track when it comes to keeping a store clean.
Why is it important to use a list of tasks for cleaning?
Nowadays, we usually have so much to do in our lives that we often forget some essential things. This can put us in trouble, especially when our eatery store is not in good shape and our customers come to know about it. We will immediately lose them, and our business can go into recession. Therefore, cleanliness is something that we must adopt, and we should make sure that we don't miss out on anything essential.
Since this checklist includes a list of things to be done, we can easily give it to the cleaning staff and ask them to do each and every task listed in it in a specific order. This way, even when we are absent, we can control how clean our eatery shop is.
With the use of the checklist, it also becomes easy for us to hold the responsible people accountable because we can easily see which task listed in the list has not been accomplished, which would never have been possible without a concrete and comprehensive list of tasks to be done.
How do you create a checklist that can keep your bakery neat?
If you don't trust anyone and want to create a list on your own, you can follow the tips given below:
Determine the cleaning needs:
Every business has its own needs for cleanliness, depending on its type and the way it operates. Bakery items are usually baked in the oven, and therefore, they need different practices to be followed, such as regularly cleaning the oven. Likewise, determine the needs of the kitchen and see how many parts it has and how to clean them individually.
Clean from the perspective of customers:
You should try to view your bakery from the perspective of the customer and then determine what kind of cleaning level they require. This will help you clean the bakery in such a way that people also find it clean, and you can portray your business as a hygienic business. Things that are not so urgent to clean can be mentioned at the end of the list so that the staff can understand that they have been assigned less priority.
Make a cleaning schedule.
You cannot achieve a squeaky-clean kitchen unless you ask your staff to do it every day without a break at specific times of the day. This way, it becomes their habit, and they know when they should gear up to clean all the mess away.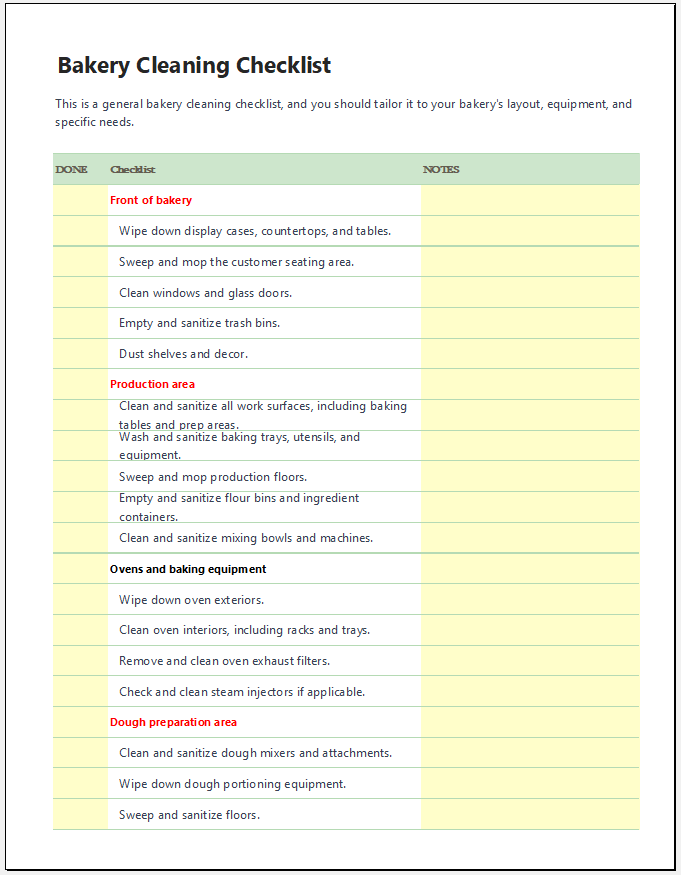 ---