Employees in any business have a special role to play. They are usually the driving force behind a business, making sure that it is performing well and providing all the services that it is supposed to provide. However, this can be achieved only if employees are aware of their duties.
What is a bakery employee responsibilities sheet?
It is a document that is used to outline the duties and responsibilities of the employees recruited to run a bakery business. This sheet enables the staff to determine the expectations of the bakery owner.
What is the purpose of the baking store workers' duties document?
No matter if you are running a small store or a large store with multiple sections, you will always need many people to shoulder the responsibilities of running your store. You will have to compensate them in return.
When there are multiple things to perform and many people available to perform them, you will need to distribute those tasks among the people you have hired. This assignment of responsibilities is usually based on the competence and expertise level of each and every person hired by you. The document prepared to carry out the duties is usually helpful for you to make it clear to everyone what you expect from them.
When you hand over a duty list to people who are committed to working for your company, you can easily hold them accountable as you and your business staff are on the same page due to the responsibility list and both know who should be working to accomplish a task and how.
How do I design a task list with duties?
To craft a document that is helpful for your staff in knowing their responsibilities, you should know about the various steps to follow. Here are those steps:
Determine your bakery goals:
Duties are very easy to create and distribute when you have a clear idea of what you want to achieve by making several people work for your business. Therefore, sit back and decide what your goals are, and then make an action plan to reach those goals with the help of the human resources you have hired.
Know the competency of each person:
Different sectors of a baking store, such as baking, cleaning, quality assurance, etc., need to be considered when assigning duties to different people. It is very important to make sure that you are aware of the competence, skill type, and level of each employee. This will help you assign duties to them that they can easily perform using the skills they have equipped themselves with.
Including some challenging tasks:
You should not be afraid to add new things to the duties list that your staff might not be aware of because adding more challenging tasks will help you train them to adapt to the new system whenever you introduce it.
Make an individual task list:
It is important to make a separate task list for every person working in your baking shop because everyone should view only their duties to avoid any possibility of confusion. You must have discussed the duties of people with them while hiring them. This list should include only those tasks.
Divide duties into various categories and subcategories:
To make it clearer to your staff as to what they have to do in a day at a bakery, you can divide their main job role into various categories. For instance, a cleaner's job is to clean and this is obvious. However, what he needs to do particularly under the category of cleaning needs to be explained more comprehensively.
Give instructions:
If you are not comfortable mentioning the duties of people in a list because you feel that they will not understand it will, you can give them a description of each duty or give instructions to your workers so that they can clearly understand how much and what kind of tasks they need to accomplish before they sign out.
It is important to note that the duty list varies depending on the priorities and individual needs of a business. You can modify the list based on your preference.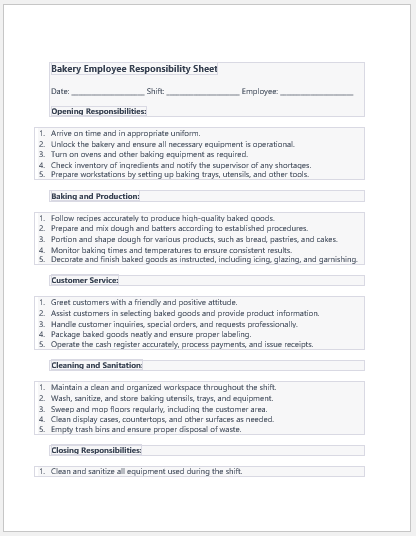 ---