The consulting service bill is issued by consulting service providers. The consulting services are being rendered by many people these days and the role of consultants, therefore, has become very prominent.
A consulting business nowadays has a wider prospect. It does not include only verbal consultation. There is a lot more other than consultation which is being provided by a consultation business.
The consultation service bill makes it easier for a consultant to keep track of the payment paid by the customers as well as maintaining the consultation rates. The main purpose of using the service bills these days to ensure that the flow of money from customers to consultancy business is smoother.
Whether you provide medical consultancy or a legal one, the basic format and the structure of the consulting service bill remains the same. You can also get the template that will let you know about the exact format of the service bill to be followed.
What is a consulting service bill?
It is a formal, yet simple document used by all organizations and individuals who provide consultancy services to their customers. The format of the consulting service bill is quite like other commercially used service bills.
However, you can add the details that are in accordance with your own business. The main details that are usually mentioned are the name and contact details of the consultant and his customers.
The consultant can also mention the terms and conditions in the service bill that makes it easier for the customer to understand the terms on which the consultancy business works.
The consulting service bill includes the details about the type of consultant service as well as the payable amount. The date on which the service bill is being issued should be mentioned in the invoice. You can make the consulting service bill according to your own business needs.
No matter which type of format you use, the basic format and outline of the service bill do not change. If your consultancy business includes something unique, the service bill should be made according to it.
Preview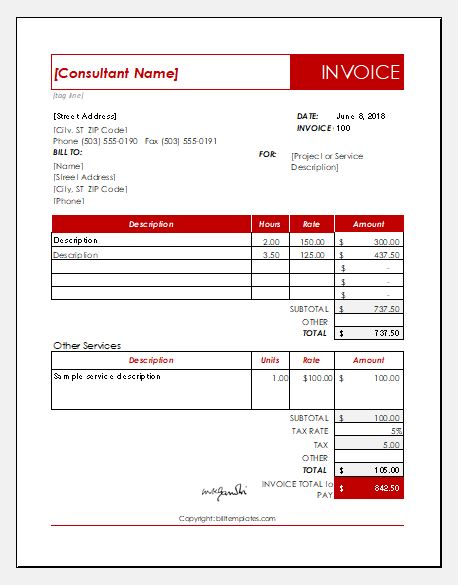 The template
Format: MS Excel 2007/2010 [.xlsx]
Download
[Restricted use]
---