Blood Sugar Logs, Record Tables & Data Charts
If you want to live healthy with diabetes you have to control your sugar level. Controlled diabetes can halt complications affecting your eyes, kidneys, and heart. Tight blood sugar control, however, means a greater chance of low blood sugar levels. A good way to maintain your blood sugar level is to; log your blood sugar level. The chart includes the date, time medication and dosage, your meals and your exercise regimen.
The following chart demonstrates the blood glucose ranges. Use this as a comprehensive data presented to your physician to develop a regimen of blood glucose monitoring.
It is not only necessary to check your blood sugar; additionally one should track the readings of blood glucose level in a regular. Hence, you are able to produce your own health monitoring to aid the physician in diagnosis and treatment fluctuations in blood sugar levels besides food and medicine can be comprehensively monitored through these charts. Factors that affect levels may include:
changes in physical activity
weather problems
other pathologies
dosage regimen
The normal blood sugar in a healthy individual before meals is up to 130mg/dl and it should be below 180mg/dl two hours after the food intake.
7 percent l reading of A1C
eagle at 154 mg/dl fasting reading
In this digital era, it is very easy to log the blood sugar ranges on a daily basis either in a notebook or on your digital device. On-line free customizable templates are offered to just jot down the blood sugar readings in the pre-formatted column. Download these templates to record your readings.
Download your file below.
Blood Sugar Data Record Table with Chart Template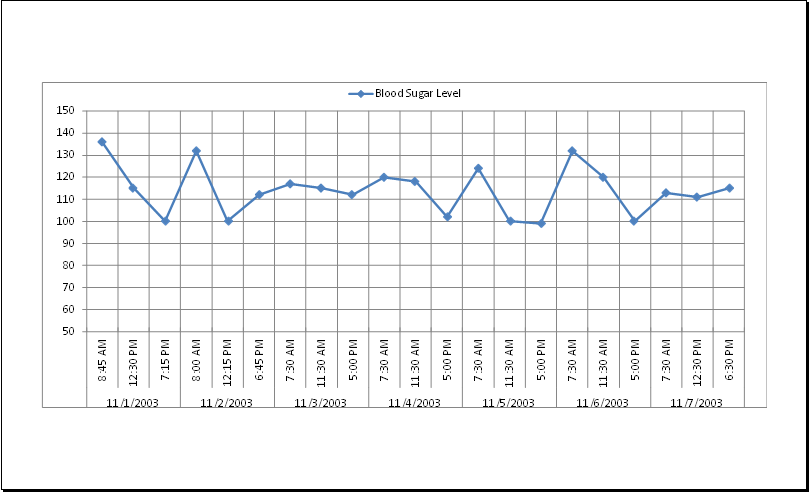 File Size: 31 KB
Download
---