Quotations are the documents created by any business, company, and individual for any product sale or business. The quotations contain the price of the product. The quotation helps the buyer to compare the price of the same product given by different companies and choose the one with the desirable quality and price.
Here we are talking about the painting job quotation templates. Aesthetic and eye-catching decor are what we all desire for our homes. Painting is a tricky job since adding colors to one's home and life is not an easy thing to do. It is important to keep in consideration the quality of the paint and the professional who us doing the job for you.
Significance and Policy:
The painting jobs are taken by painting companies or individuals.
The quotation sheets contain all the information about the painting.
The companies provide the customers with the best painting techniques and paints.
They can compare the quality and price with other companies and choose the one which is economical.
The discounts, price, and quality are given in the template. The buyers have an easy access to these templates.
The prices mentioned in the sheet are for a specific period of time and can be changed on purpose. The cost of labor, materials and professional services are also included in painting quotation templates.
The sheets are designed to attract the potential buyers for a longer duration of time and show the company's professional working attitude to the client.
Painting job quotation sheets:
Painting companies provide these sheets to the clients before they are hired. The list of all the shades, color palettes, themes and other accessories along with their prices are listed on the sheet.
The clients can have these sheets and can compare them to the others in the market before choosing a painting company. The key points of the sheet are the company's name, address, the total labor involved, shades and type of paints you selected, cost and services involved during the work, the number of days of the work, per day cost and maintenance and delivery charges as well.
Preview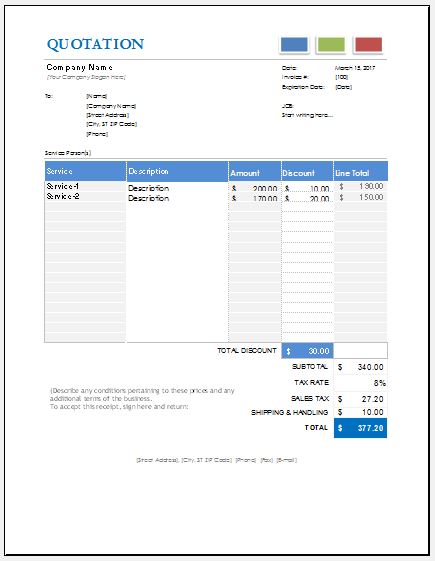 Painting Job Quotation Template
Download for MS Excel
Download for OpenOffice Calc
---
---