Businesses are based on a lot of words and documents. You must give a sound representation of your work to the buyer to attract his attention. The quotation is the sheets containing all the information related to the product and the facilities and services that are provided.
Catering is a tricky and tiring business since it involves a lot of aspects. Entertaining people is a joy for some, but some make it a business. The caterers provide food at the hotels, banquets; weddings etc. and they should make sure that they maintain the quality of every dish. One thing is that the menu is different for every event.
Significance and Policy:
The catering business depends on food and the decorations and services provided during this time of the event.
The menu is revised for every event so the management has to make sure that they have all the seasonal and best dishes on the card.
The buyers tend to compare the menus while hiring a caterer so menu should be tempting.
The prices of the dishes are affordable and they can be changed according to the availability of the resources.
The quotation enables the buyers to check the quality and rate of the food that each company provides and opt for the best one.
The catering companies also provide the seating and decorations. So this part is also considered while hiring a catering company.
The quotations include the man labor, cost of delivery, food per person cost, sitting cost, decor cost if any, waiters cost etc.
Catering quotations and services:
Food is the basic need of everyone. Whether you are holding an event or a business party, the food ought to be good. Since the food is different for every occasion, check the meals menu first. The sheet given by the caterers contain the information about the type of food, no. of guests, price per person plate, the arrival of the guests, the departure of the guests, food timing, labor provided, additional facilities such as décor, bar services etc.  Caterers provide these sheets before you hire them to give you an insight of the services.
Preview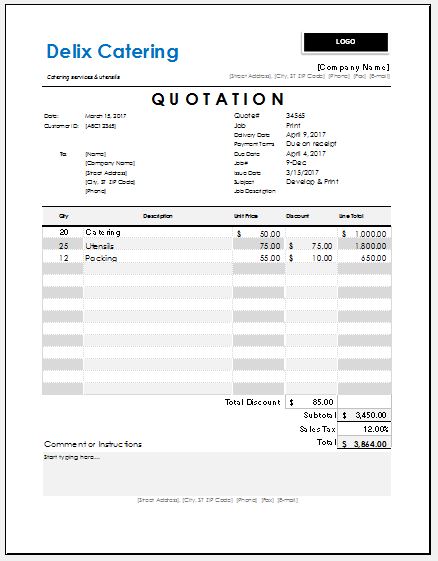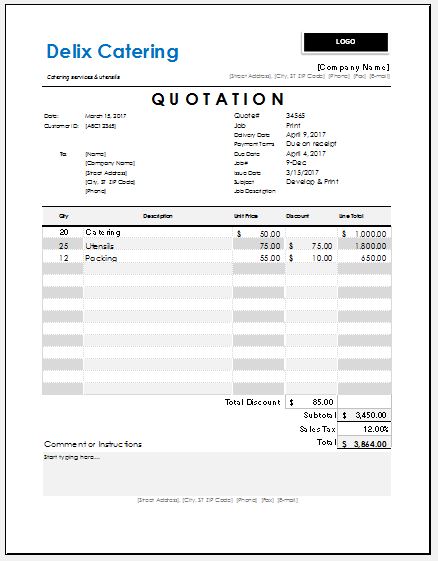 Catering Quotation Template
Download for MS Excel
Download for OpenOffice Calc
---
---