The digital world has got everything on the computers. The quotations are designed on them to keep the flow of business streamlined and easy.
The one here is related to the computers. Computers are the part and parcel of life. They keep data and record of everything we do. Once they break down, all the work in the offices and businesses seem to stop.
Significance and Policy:
The quotation contains all the essential solutions to the computer problems.
The computer services quotations contain the process of the services provided for the maintenance of every part of the computer such as the RAM, Hardware, motherboard etc.
The quotation sheets enable the sellers to quote the price and other details of the services provided during the repairing of the defected piece of the computer.
The buyers can compare the list given by the service providers with the other lists available in the market.
The discounts, price, and quality are given in the template. The buyers have an easy access to these templates.
Sellers in the markets use these templates to attract buyers since these template help to compare the prices with other sellers and buyers opt for the one with reasonable price and good quality.
The professional repairmen would provide you the best quality of service and that too in reasonable price.
The prizes mentioned in the sheet are for a specific period of time and can be changed on purpose.
The templates contain necessary details which show the professionalism of the seller and attract potential buyers.
Computer services details:
The computer technicians are a part and parcel of every company since any default in the computers stop all the office work. A computer technician keeps the record of all the services provided in the maintenance if the machinery which is operated by the computer along with the maintenance of the computer parts. The quotation enlists all the parts of the computer and the cost of each part along with the service charges. This also includes the shipping charges and maintenance charges.
Preview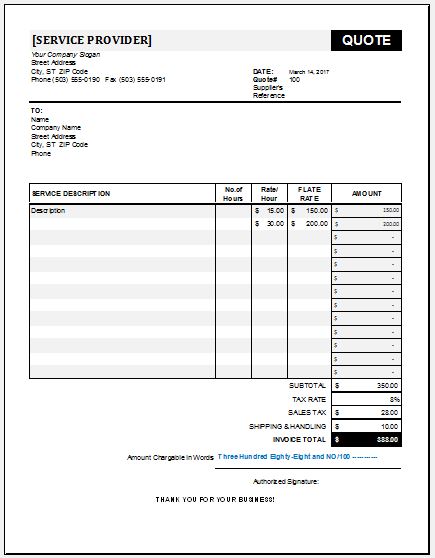 Computer Service Quotation Template
Download for MS Excel
Download for OpenOffice
---
---