No one wants to retire from his job. Retirement is just like quitting the job and then never going to it again. For many people, the thought of retirement is very intimidating. What makes their life more miserable after retirement is a lack of planning. 
Any person who is going to retire in the near future should never take retirement lightly. He is recommended to make proper planning so that life after retirement can be spent peacefully without facing any financial hardship. Retirement brings lots of changes to a person's life. When he plans everything appropriately, he is likely to spend his life after retirement happily.
What is a retirement checklist?
A retirement checklist is a great tool that most people like to use when they want to make sure that they have made proper plans for retirement. 
What are the benefits of a retirement checklist?
A retirement checklist has lots of benefits. Some of them are
It helps in budget planning:
When a person uses the retirement checklist, he develops the retirement budget. The retirement budget is for all those people who have limited resources and want to spend their life by using only those resources.
The checklist also enables a person to know how much he is needed to spend in which area of his life. With this information, a user can easily know whether he is overspending or not. If he is overspending, he can take hold of his expenses and control them according to his budget
It helps in making plans for retirement:
A retirement plan is the first and foremost factor that everyone should consider before retirement. The retirement plan tells people how much amount they should save for the future. Before retirement, a person receives a salary every month. Everyone needs to maintain the same lifestyle in life after retirement in order to live a happy life. For this purpose, a person is required to take several steps in the present.
The retirement planning helps the person know how much he needs to save in the upcoming years before he retires from his job. Retirement planning will never let you get into financial trouble because you plan everything ahead of time and you know how to deal with certain situations.
You can use it whenever you want:
The best thing about the retirement checklist is that it has no restrictions. A person who feels the need to use this can use it any time before retirement. Whenever you will start using the retirement checklist, it will help you by suggesting you take an extra job to save more and many more things.
It helps a person pay off his debts
A person needs to pay off his debts before he retires from his job. For this purpose, the retirement checklist keeps reminding the person to pay off his debts. He can do that by doing an additional job or by taking any other step.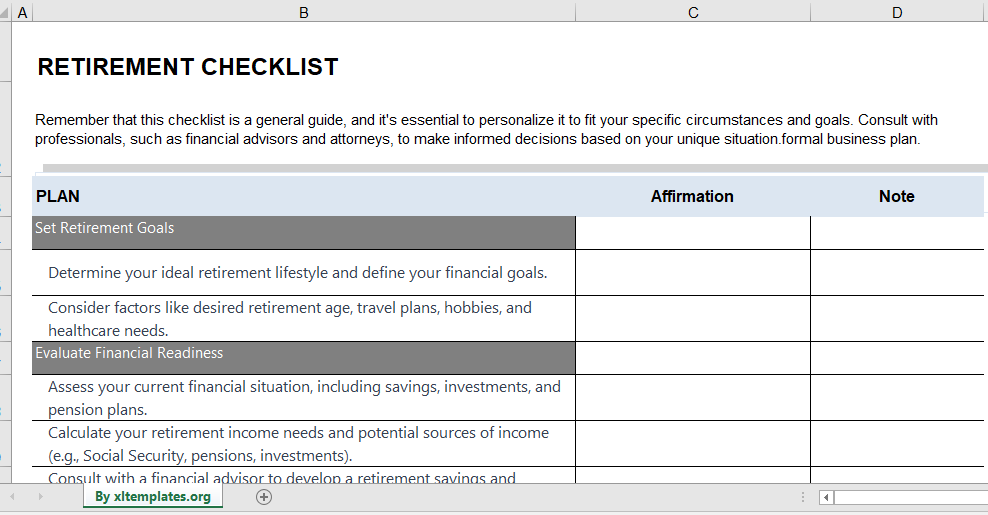 ---