Sale of a product largely depends upon its quality and its price. Quotations are designed to represent the price and quality of each product and it is comparable to the same product by other companies. This is a beneficial and a healthy approach to long-term business. The price quotation contains the original price of the product and can be made less once you get in talking with the seller.
Significance and Policy:
The prices are negotiable and the sheet is in written form.
The price quotation sheets enable the sellers to quote the original price and other details of their products in a single sheet.
The weight and other dimensions are described in detail.
The discounts, price, and quality are given in the template. The buyers have an easy access to these templates. They can easily compare the price and look for the cheapest price available in the market.
Sellers in the markets use these templates to attract buyers since these template help to compare the prices with other sellers and buyers opt for the one with reasonable price and good quality.
Due to a lot of competition in business, the sellers have to maintain a low price and good quality to sell their products.
The templates contain necessary details which show the professionalism of the seller and attract potential buyers.
The delivery, validation and expiry details are also included in the quotation sheet.
How to make a product quotation sheet in Excel:
The templates available are named as price quotation templates (PQTs) and they contain fields for data entering and can be edited when required.
This is how it is used:
Download the desired template from the Internet.
Go to excel and run that template.
Click the available fields enter details such as the product's name, weight, price, address, phone details, payment, and delivery etc.
Once this is done, save it.
Enter Ctrl+P and get a print of the template. You can enter the values manually on the template in the computer or you can enter it by hand on the printed form.
Preview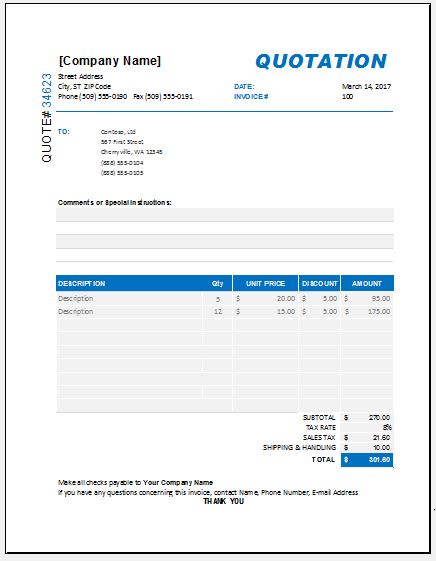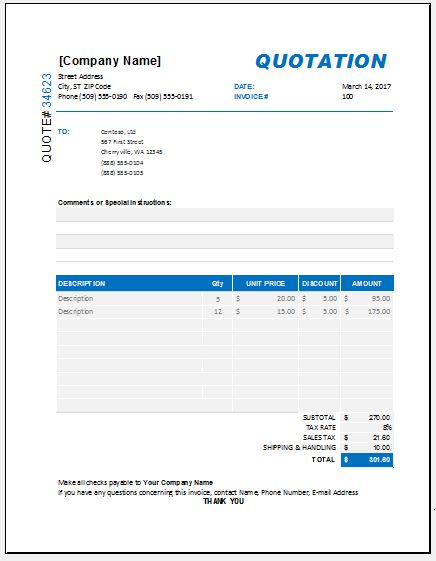 Price Quotation Template -1
Download for MS Excel
Download for OpenOffice
---
Preview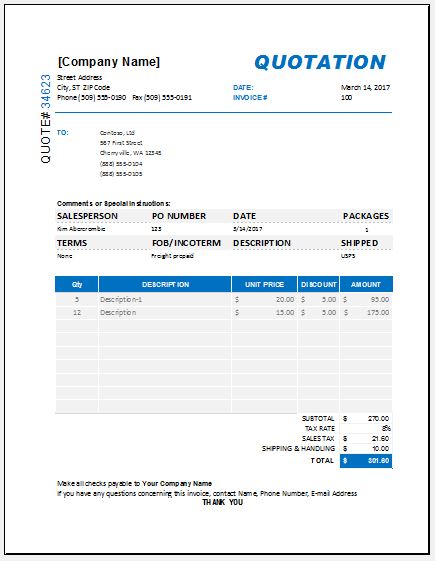 Price Quotation Template -2
Download for MS Excel
Download for OpenOffice
---
---