Traveling in the winter season is fun. However, it becomes a problem when you don't have the right type of arrangements and you miss taking many things along that you often need on the way. People who are aware of the problems they may face on the way know how important it is for them to be wary of the stuff to take along and steps to take for ensuring safety and security.
At times, there is so much to do that people often forget many important things. One of the easiest ways to remember things is to write them down in the form of a checklist.
What is a winter travel checklist?
It is a to-do list in which all those tasks are added that are required to be performed before setting out on a journey in the cold weather. This checklist acts as a reminder because many people forget to do several things.
Before you start to travel, it is important to give yourself two to three days to sit back and decide on the things you need to take with you and the measures you should take to ensure you reach your destination safely. What kind of things you need to do mainly depends on the duration of the journey.
How is a checklist helpful in planning?
When you have decided to go on a winter trip, the first phase is always to plan the trip. The checklist is generally created and used in the planning phase. While you are deciding on what you need to do to make sure that you don't face any problems throughout the journey, you will be able to make a to-do list. Once this list is ready, you can use it as many times as you want.
How to create a to-do list for commuting in the winter season?
It is very important to make sure that you create a list in making your journey comfortable. This depends on the to-do list that you follow in the planning phase. Therefore, you must create a list that is effective and helps you in getting ready for the commute. Here are some tips for designing a to-do list:
Consider the duration of the trip:
Things that you need to do include packing the stuff depending on the duration of the trip. It is obvious that if your trip is short, you will not need a too-long to-do list as doing a few things will be enough. Similarly, if your destination is not too far, it will also make you create a list that is short and concise.
Consider the purpose of the journey:
How you get ready before you leave for the destination in the cold season largely depends on your purpose of traveling. If it is a business trip, your preparation will be different from the family trip. Traveling during the holiday season in winter requires you to be ready for performing different activities such as snow skating and much more. You should be ready to make your trip more fun and make sure that nothing on your schedule gets disturbed just because you have not prepared well for it.
Once you have defined your purpose in your mind, you will be able to make a to-do more efficient and useful.
Decide the stuff to pack:
Packing is the fundamental part of getting ready for traveling in a shivering cold. The to-do list should tell you what you should pack in your bag so that you don't face any inconvenience along the way. You can think of buying many things instead of carrying them along as and when you need them.
However, it is not possible to buy many things such as travel documents including your passport, driving license, or identity card. It also includes keeping warm clothes and winter shoes in the bag.
Health and safety-related tasks:
You should feel fit as a fiddle when you are on your way to your destiny because it will improve the quality of your journey. If you have any medical condition, take all your medicines and other equipment with you and mention this task in your checklist so you never forget it.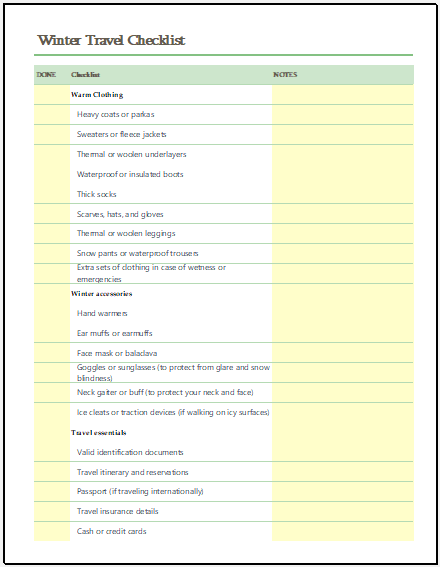 ---