Summer is one of the best seasons to make your kids actively engaged in healthy activities such as swimming, football, cricket, and many more. Kids also get an extended summer break every year which is the best time of the year for them to learn something new.
What is a kids' summer activities checklist?
It is a tool in which activities of the kids that are to be performed in the summer season are listed. These activities are usually healthy and make kids more productive. This checklist is an excellent tool for people who want to organize the summer break for young people.
Kids usually feel bored when they stay free and often start using mobile phones and become addicted to them. To prevent this from happening, make sure that you have made a plan as to how you are going to keep your kids busy.
How to create a to-do list for kids?
To make sure that your children have the best summertime with their friends and family, you can plan how they will spend this valuable time. For this,
Know your purpose:
Before you start making this list, you should ask yourself why you need it. Some people want to keep children busy while some of them are serious about making them learn a new sport or skill that will be helpful for them in the future. Once your purpose is clear, you will be able to design a productive checklist.
Determine the age of the child:
Activities in which kids can be engaged depending on their age. You cannot make them take part in those activities that are by their age. If kids are forced to do such things, they lose their potential because they give up quickly. However, when they see their peers are also participating in the same type of things, they start to feel motivated and become enthusiastic.
List down physical activities:
If your kid has had a lazy lifestyle because of the burden of studies and they have very limited physical activity, summer is the best time to engage them in physical activities. This will make them healthy and fit and they will start to feel more confident and comfortable. These activities may include some sports, gym activities, hiking, traveling, and anything which requires them to be more active physically.
List other activities:
Summer activities are not only about staying physically active. There is so much fun that kids can do to enjoy this season. When you are designing this checklist, make sure that there are numerous non-physical activities because your goal is always to not let your children feel boredom. Monotony in the activities will also frustrate them and they will start to lose interest in their routine life.
Add things that bring them close to nature:
Adults and children are very far from nature these days because of the involvement of technology in their lives. They have started to use mobile phones and other machines for any purpose. They don't have time to spend their leisure time in nature. If you want your kids to be a little bit spiritual and feel nature, add some activities that develop their interest in it.
Make room for experiments:
Performing different experiments is the healthiest way to make children learn many things. These experiments can be regarding their personal life that can teach them several bitter realities. You can also engage them in science-related experiments not included in their curriculum. This will increase their knowledge and make them ready to face the exam and the real challenges they must contend with.
The bottom line:
Having a checklist of summer activities helps you keep your kids busy with something productive instead of making them use gadgets all the time. When they return to school, they can stand out because these activities also impact on their health and personality. The to-do list must be packed with those tasks that can take your child to personality-building and self-improvement.
Preview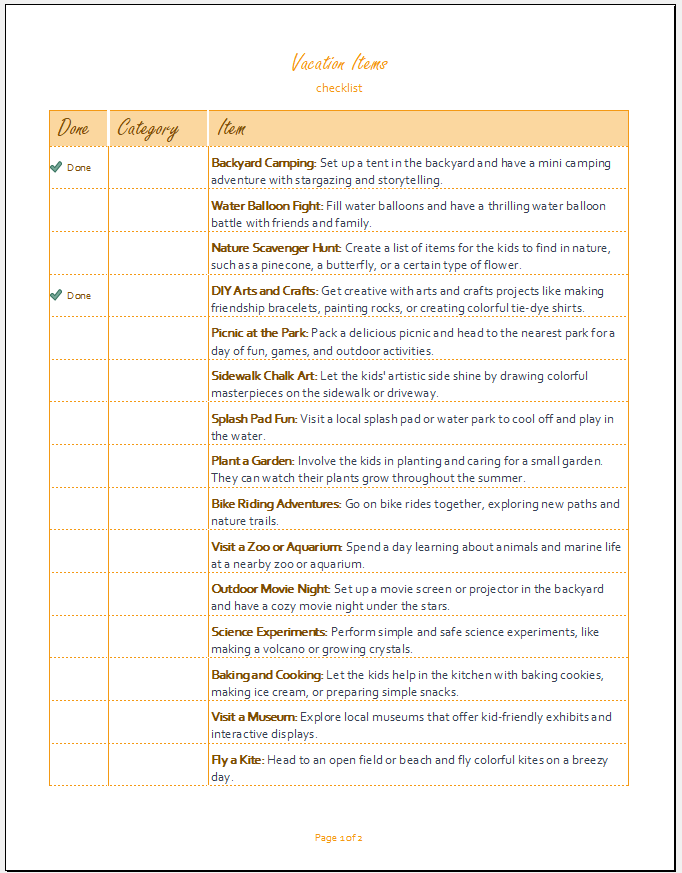 ---