Construction is a tricky business and involves a lot of aspects that are difficult to control single handed. Construction quotations are given by the contractor to the authorities in whom the estimated cost of all the labor, resources, risk factors and management and the services provided by the contactor's company are given.
Quotations are given by the contractors since they contain every required information of the business. A quotation basically is provided to give detailed information about the price and specifications of the product. They make or break any business since trust is built upon the sheets provided to the buyers.
Significance and Policy:
The construction quotations are provided by the contractor and they contain all the necessary information related to the services provided. It consists:
The sheets contain the details of the man's labor that would be employed.
The sheets also contain the detail about the material used ad its delivery and cost.
The machines, their maintenance, and its cost are listed.
The sheet throws light on the payments that are given on hourly basis to the workers along with the cost of food and other facilities that are provided.
The discounts, prices of the product and quality of each raw material and other resources are listed there.
The companies could easily keep a record of all the transactions made during the construction.
The quotations evaluate and contain necessary details of the construction business which show the professional attitude of the contractor and attract potential companies.
Construction quotation and its importance:
Construction is the business that gets every day around the year. You won't see a builder sitting idle. The builders and contractors work a lot to get a contract. They have to make a bid first. The bid must contain all the key elements. It could be made in Microsoft Excel as well. The key points are:
The estimated cost
Risk management strategies
Material needed
Quality of the material used
Shipping and delivery charges
Staff payments and labor
Labor services and other necessities
Medical insurance and care
Deadlines and keynotes of the project
Maintenance and service charges after the completion of the project
Preview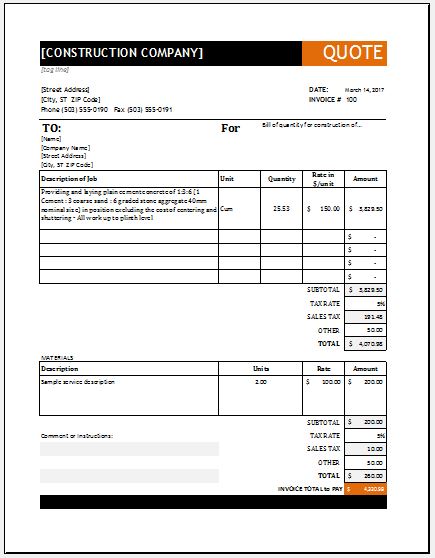 Construction Service Quotation Template
Download for MS Excel
Download for OpenOffice
---
---