Quotations are the documents created by any business, company, and individual for any product sale or business. The quotations contain the price of the product. The quotation helps the buyer to compare the price of the same product given by different companies and choose the one with the desirable quality and price.
Significance and Policy:
The prices are firm and the sheet is in written form.
The product quotation sheets enable the sellers to quote the price and other details of their products in a single sheet.
The weight and other dimensions are described in detail.
The discounts, price, and quality are given in the template. The buyers have an easy access to these templates.
Sellers and manufacturers aim at attracting the buyers by giving luring offers such as a choice to compare the prices and bag the most economical one.
Sellers in the International markets try to make some buyers their regular customers. In order to do this, they have to earn the customer's trust. They provide every possible detail of the product and in return buyers start a long term business relationship with. This is beneficial for the newly started businesses as it helps them to achieve something big.
The prices of the products are changeable since any change in labor or material increases the final cost.
A well organized and professional institution provides all the necessary details about the product to the customers.
The delivery, validation and expiry details are also included in the quotation sheet.
Components of the Product quotation:
As you are selling your product, you must have a clear insight of your marketing plan that could attract the customers. Every type of quotation has its components that are the fields you can fill when you present it to the customer. It includes the:
The description of the item sold
The detail about its parts and their prices
The number of units sold
The price of each unit
Total price
Delivery date
Expiry date
Validation and maintenance charges
All these points are the main components of the product quotation.
Preview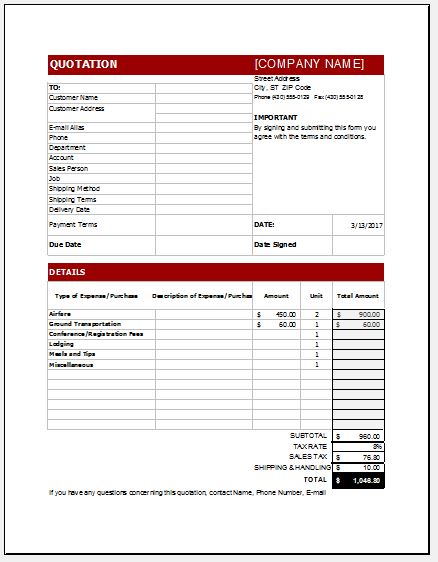 Product Quotation Template
Download for MS Excel
Download for OpenOffice
---
---