Projects work according to plans and these plans are made according to the resources and money available. No project is ever successful if it is not cost effective and economically friendly. So to avoid the loss and errors at the end of the projects, money, and budget is kept in mind at the start of the project. The plans are made according to the money available and cost effective is always the priority of any business.
The skill to create a budget sheet according to the project is an essential skill of the project manager.
The manager has to take into account all the aspects and risks that can lead to a deviation in the cost of the project.
Basics of budgeting:
Top up approach means accessing the total budget and cost of the project and dividing into work packages.
The bottom-up approach includes the total budget of the project by estimating the work package that is the lowest and then rolling upward.
Direct and Indirect costs of a project:
Labor
Resources
Experts fess
Software license and legal procedure
Travelling cost
These are the direct costs that are to be kept in mind while making a budget sheet
Insurance of the project and company in case of hazards
Telephone bills
Office space and electricity
Office equipment and their usage and maintenance
General administration and maintenance
These are the aspects that indirectly affect the cost of the project. It is essential to have an eye on these things to avoid cost issues.
The key feature of a project budget sheet:
Categories and Items
Item notes
Total budget
Budget used
Budget left
Difference in the budget
File attachments
Reminders and deadlines
Collaborating the budget sheet with the team
You can share your budget sheet with the whole time. They can view the sheet but cannot edit it. The whole team can have an idea of the work and the deadlines and will work accordingly.
Try to keep the sheet as realistic as possible. Do not overestimate the budget and make a sheet that you can highlight and edit easily.
Preview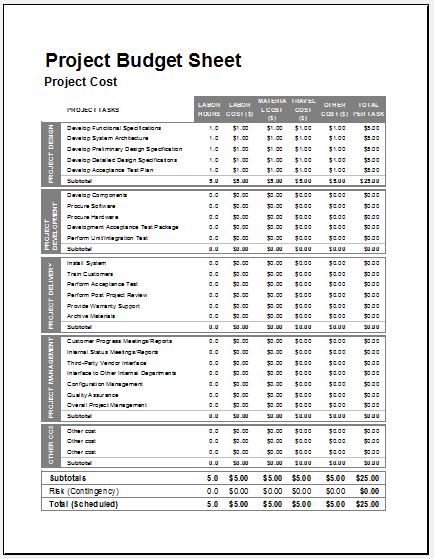 Project Budget Sheet Template
Download for MS Excel
Download for OpenOffice
---
---