No matter what business one operates in, either renting out properties or cars, but he will need a payment receipt every other day. A rent payment receipt is a written proof that is presented by the landlord or owner to the tenant once the decided rent has been paid by him. It is a custom to immediately present this receipt to the tenant and not to delay it after the rent has been paid.
The tenant pays a fixed sum of money to the landlord or the owner of the property he uses on the fixed date of the month. After receiving the payment and checking it, the landlord, in turn, presents a rent payment receipt which plays a part as a proof that the payment has been received by the authentic person and it was the full payment as decided before.
A rent payment receipt is a legal requirement at some places, and most of the people use it in their transaction to avoid any misunderstanding or dispute in future. As this receipt plays a part as a proof, so it is advisable for both the parties to keep a copy of it somewhere safe for future references.
A good and effective rent payment receipt must have a few necessary details in it like the date on which the payment is made, the address of the house or the property being rented, the name of the representatives of both the parties and of course the amount received.
The signatures at the end of the receipt by both the parties are a must as it will declare the receipt as reliable and authentic. The importance of this small tool can be realized by the fact that if there is any dispute between the tenant and the landlord and the court gets involved, the law will require this payment receipt as a proof. If any of the parties fail to present it, the court will consider it as a nonpayment. This means that not only the presentation of this receipt is important, but keeping a copy of all the receipts is also very important.
Following is given a rent payment receipt template that will be a handy tool for the landlord to prepare a rent receipt for him.
Preview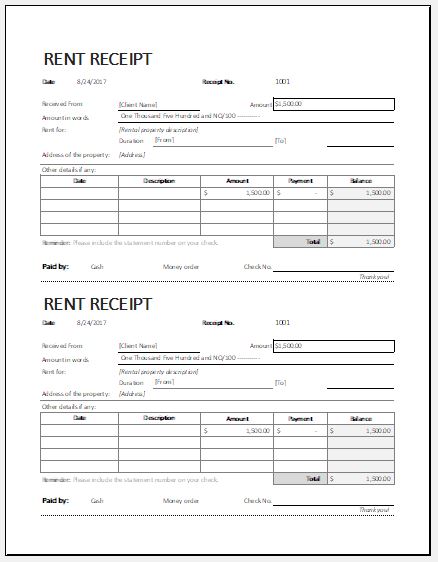 Rent Payment Receipt Template
File Size: 20 KB | Format: MS Excel
---