This is a technological era and everybody is busy in their work. The family values are still there but slightly forgotten due to busy schedules. To minimizes the forgetfulness of important family events or to remember each family member's special assignment it is good to manage a family calendar.
It is better to make your kid regular note down events and task in the family calendar because by this they will learn how to organize their work and how to manage their timings while enjoying the family values and love. The most purposeful aspect of the family calendar is that every member is aware of the others activity and timing schedules and they can manage and cooperate together to fulfill toilsome ditties and the chances of conflicts are also minimized. Your deadlines and appointments are recorded in such calendars and his calendar will act as an effective reminder for you and your family.
You can either design a calendar on paper in beautiful designs with rows and columns and kids will love it too but as mentioned above your busy schedule will not get you to do so. Therefore, download a free online template for the family calendar with a fully customizable format to design a vibrant timetable. This electronic calendar will fill in your data and schedule instantly and you can print the copies for your family members whenever you need.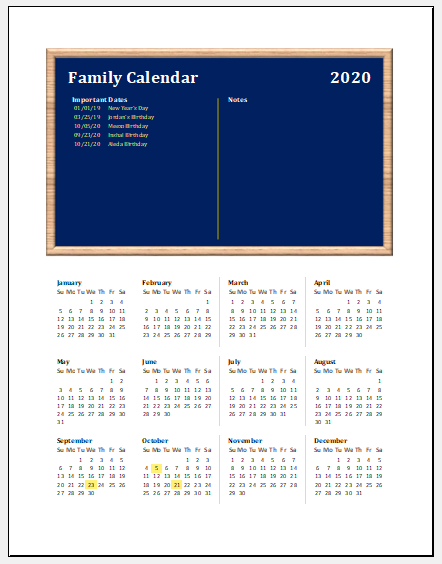 Download your file:
Family Calendar Template
File Size: 184 KB
Download
---
Family event calendar templates:
There are various events in the family every now and then. Being a part of a family, it is important for you to remember all these events so that you can always ensure your presence in those events. Moreover, the family calendar can also be used to plan the activities of the family.
Family calendar template allows the user to personalize it according to his needs and hang it on the wall. The use of this calendar ensures that you don't forget any special event marked on the calendar.
The family calendar template also enables you to plan and organize activities for every family member individually. You can plan different things for your kids, spouse and also for your siblings. The template creates a new calendar each month for families. Every calendar has different graphics for giving an attractive look.
What are the key benefits of using the template?
There are lots of benefits that are provided with the help of the template:
You can place the calendar on your office table or somewhere you spend most of your time. This will help you get the glance of the calendar every day. In this way, you are less likely to forget the events coming ahead
There are certain events that have deadlines to meet. The calendars are always here when you want to meet the deadline by always staying ahead of time when it comes to doing anything important. The calendar tells you exactly what you are required to complete and when.
This calendar template actually keeps every member of the family on the same page. The calendar keeps everyone up to date about what is being planned in the family and this maintains an open communication between each family member.
You can download the template to print and keep the hard copy with you wherever you go. Even if you are standing on the road or traveling in the bus, you can make an important decision right there with the help of your portable family calendar template that you have printed or downloaded in your mobile.
Preview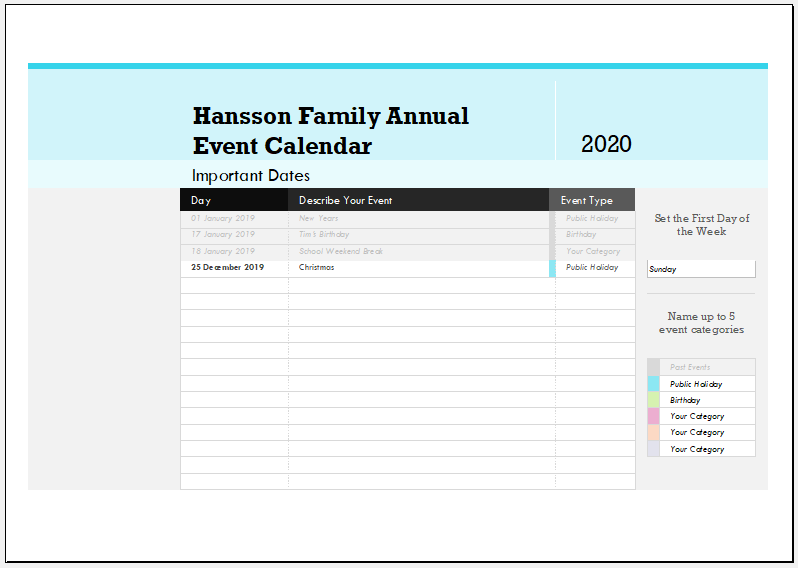 Format: MS Excel [.xls & .xlsx] 2007/2010
---