Every machinery and spare part needs regular maintenance. Everything in this world is subjected to the process of wear and tear. Apart from replacing the worn-out part, it can also be repaired. Repairing is useful because it saves the cost of buying a new machine.
A machine that is working perfectly gives most of the peace of mind. If you want to keep all the machinery in working condition, you had better go with the repair log sheet.
Mostly, repair log sheet is used by people to maintain the vehicle. Regular maintenance of the vehicle ensures the reliability of the vehicle for a longer period.
What is repair log sheet?
Repair log sheet is a document which is used to keep track of repair services provided by you to the vehicle or any other machine. The purpose of using this log is to keep the machine/vehicle properly functional. It adds value to the vehicle at the time of resale.
You can prepare this log manually on a paper. Moreover, it can also be created in any software. If you are not aware of the format of the template, the readymade template can also be downloaded.
There are some specific details that are added to this log to make it useful for those people who want to keep the record of the repair services.
Repair log sheet:
The repairing of the vehicle totally depends on the manufacturer. You are required to know the manufacturer and the type of repair that the manufacturer demands.
The repair log should show the date of each repair service given to the vehicle. The number of times the vehicle has been repaired should also be mentioned in the repair log.
It is important for the vehicle owner to keep the repair receipt with him. This receipt is also used as a document to record the repair details.
The repair receipt is showed to the mechanic when you take your vehicle next time for repair. The repair service number should also be mentioned in this log to make the tracking easier.
Preview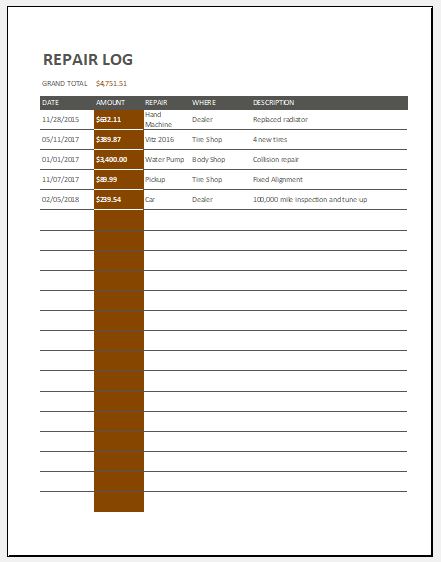 Repair Log Template
Format: Microsoft Excel 2007-2013
File Size: 23 KB
---