New business venture emerges every other day where people provide services to make life easier and more comfortable. The Foundation of most of these businesses is the use of technology in different ways. Additionally, social media has enabled every individual to the basics through informative videos and genuine feedback.
Over the years, the trend of 'do it yourself' has gained huge momentum and changed the dynamics. People tend to follow all the rules and do not for help from any other person. The use of different equipment for renovation or remodeling has increased greatly. Many businesses have been set up which provide this equipment for rent for a short period of time so that people can use them.
The equipment request log at a shop is usually termed as a log sheet that keeps track of every piece of equipment and its renters. Every piece of equipment has its own log sheet that provides information about the renter and the period for which it is rented. These request logs can be customized to provide more information for keeping track.
Equipment request logs are very crucial in their business as they provide tons of information and allow owners to keep equipment in good shape. Some of the details that the request log provide are given below,
The equipment requests log explains the people who rented particular equipment and their contact information.
These logs also include the entry for the condition of equipment while it is returned to the shop so that faulty equipment charges can be collected from the renter.
Maintenance of every piece of equipment is very important for its better functioning; therefore, the request log can be customized in a manner to include the column for maintenance requirements.
It makes it easy for the owner or workers of the shop to keep a record of every piece of equipment.
The equipment request log allows data to be presented in an organized manner.
All information of every customer can be tracked in a matter of minutes.
The layout of a request log is very simple and can be customized easily depending on the information required. Request logs can be structured on an excel sheet without any trouble.
These logs can be maintained as a soft copy on a computer or as a hard copy. Soft copies are preferred over hard copies because computers are already being used in every business setup and allow the ease of making amendments. Whereas, making changes in a hard copy is difficult and requires a lot of space.
Templates of request logs can also be downloaded from the internet and can be used after a few modifications as all request logs are almost similar.
Sample
The equipment request log can include as many columns as desired to keep a detailed record of every piece of equipment. It helps in maintaining all equipment and running a business successfully.
A sample for an equipment request log is given below,
Equipment Name: …………………..
Model: ……………………
Company: …………………….
Warranty: ………………………..
Last maintenance performed: ………………
| | | | | | |
| --- | --- | --- | --- | --- | --- |
| Renter Name | Address | Contact information | Date of renting | Date of return | Condition of equipment on return |
| | | | | | |
| | | | | | |
Preview of template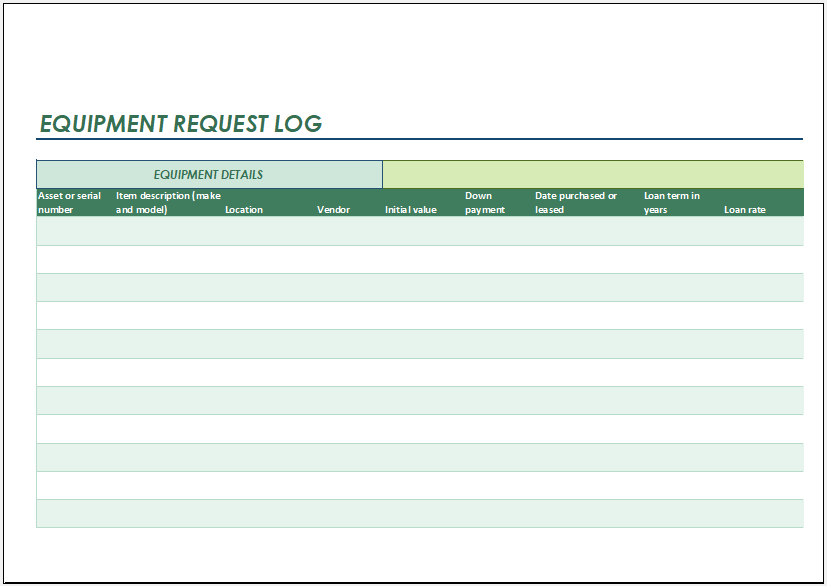 See also:
---