BALANCE SHEETS
Projected future status of a company is summarized using proforma balance sheet. This is done after a much-planned transaction which is based on the recent financial statement.
A person is required to prepare a proforma balance sheet whenever he is required to have it. The amount of money which a company has earned and other activities related to the finance are included in the statement which is made with the help of proforma balance sheet.
All the figures in the sheet must be labeled properly and all those figures which have deviated must also be mentioned in it. All future transactions such as new capital investment and assurance of quality are summarized in it; the anticipated results which are obtained from future statements are modeled through this balance sheet. The modeled transactions are particularly those, which focus on projected net flow, net revenue, and taxes.
In case a Pro-forma sheet has been decided to be applied to the business it should contain all current assets, inventories, non-current assets, intangible assets, financial and biological assets, liabilities, unearned revenue, equity as well as the net balance of the assets.
In order to structure compliance with debt, the lenders and investors can use this sheet as it can be very helpful for them. The proforma balance sheet is also prepared when a new company is envisioned in order to let the prospective investors know about the information about the company.
Every business can use this sheet for their own purpose of forming the status sheet of the company.
PROFORMA BALANCE SHEET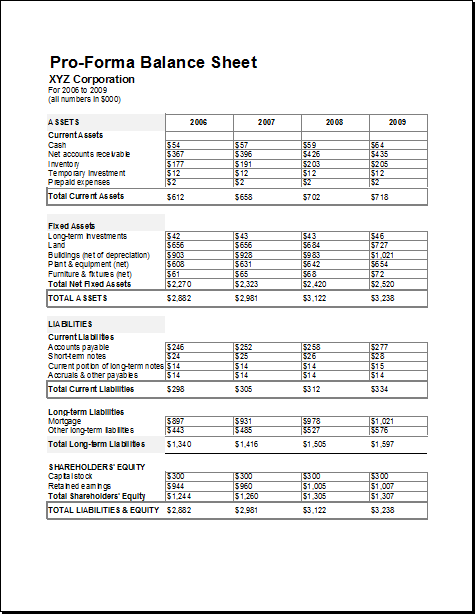 Download your file below.
File Size: 35 KB
Download
---