Absence Schedules
Every business needs proper tracking and planned to work. There are so many employees in a company and each employee has its own duties, responsibilities, and rights. These rights or benefits are enjoyed by the staff in a pre-formulated clause written in their appointment letter but to keep the track that whether an employee is benefiting from the opportunities given to them or they are taking these for granted.
For this, you have to maintain a log about staff holidays and absence as it is very crucial to calculate the monthly or weekly payroll. This trailing of absence and leaves will help to dig out where there is a loophole in appointing a particular employee.
Download the free on-line templates regarding the absence spreadsheet to log the absent or on leave employees to determine how much the employee has to be paid. Sometimes you have to pay all the money to the employee as he/she has taken the leave through the proper channel while other time you have to spend a lot as some employee tends to be on vacation many times.
This template offers you customizable options with full download options to prepare your own log. The name of the employee, the hours of leave, and the sick hours are entered as data in the free template website and it will keep track of every issue. The tracker will bring the up to date information about the Peron who is on the leave and how much he/she has earned.
Download your file below.
Employee Absence Schedule Template
File Size: 327 KB
Download
New Template -2017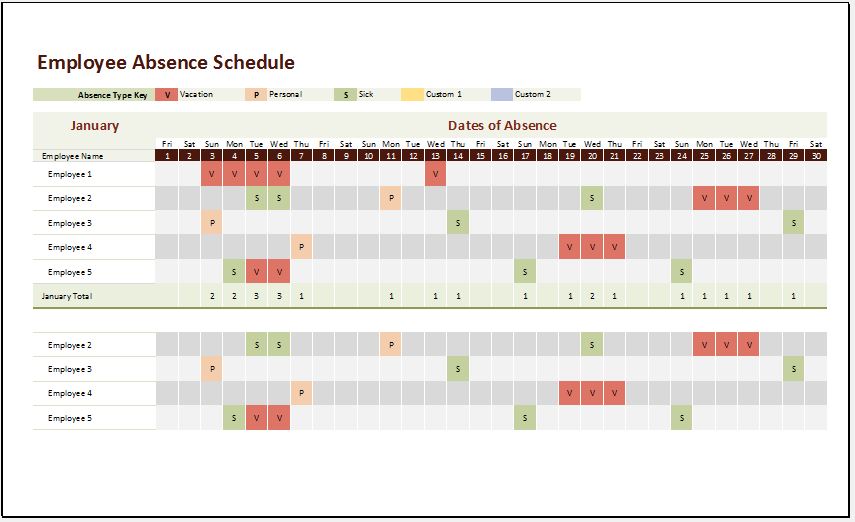 ---