Daily cash sheet
Daily cash sheet is an important component of a business because most of the transactions that are being carried out in business are in the form of cash. You can maintain a good financial health of your business through the daily cash sheet.
This cash sheet is used to keep track of the cash that you take in and take out of your business. This sheet records each penny of your business in a simpler and easier way. It is mostly used by the cashier of a company.
All you must do is to input your daily cash amount in the sheet and you will be able to detect any cash discrepancy that can occur because of theft, error in the accounting, an ignored transaction or any mistake while charging the customers.
The daily cash sheet also keeps the business owner alert about any special transaction that occurs in the day. The special transaction can be the cash that is received from the non-sales sources or the cash that has been paid out.
Daily cash sheet template:
The template for this sheet can be downloaded from this website free of cost. The user is required to download the cash sheet once and then he can use it every time to prepare a cash reconciliation sheet. It contains a very simple and easy to understand user interface.
If you want to perform the reconciliation of all the items in the sheet you can easily do that because the items are already available in it since you have used it before. It can also be customized according to the needs of the customer and business.
Benefits of daily cash sheet:
The daily cash sheet is very useful for the business because:
The use of cash sheet helps the person get a better financial record of the daily transactions.
It also saves the money because it does not ask for any accounting fee to record the transactions.
Preview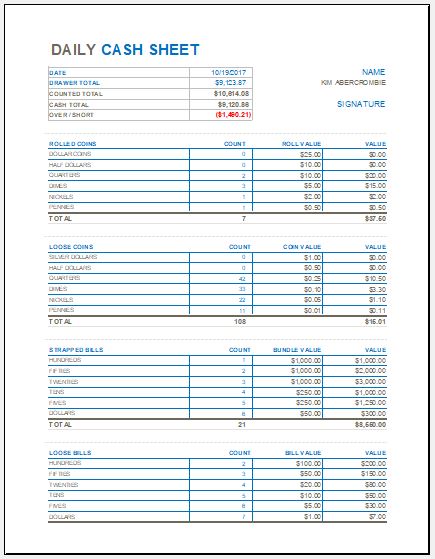 Daily Cash Sheet Template
File Size: 20 KB | Format: MS Excel
---