Warranty tracker is used for Maintenance, tracking your repairs in warranty periods. It not only tracks the warranty issues but also provides a review of the defined warranty and when and why the seller claims for the reimbursement.
An effective warranty issue claim can bring extra cash for your business and saves budget droppings. It can provide an alert for business to increase production quality, improve equipment structure, and it will surely empower the business-client relationship.
The uniquely compiled data of modified engineering can be helpful in maintenance quality to ensure a functional warranty period which will reflect your product's worth. The engineers from your business should be smart enough to promptly assess the reasons behind an early warranty failure to ensure that the situation does not arise in the future
Given warranty tracker templates are absolutely free online. So, if you want to design a quality warranty tracker then just download these free templates to draft a comprehensive warranty tracker to keep your business in a competitive streamline
Benefits of warranty tracker
More revenue by reducing warranty failure
Hands-on renewing of expiring warranties for substantial profits
Progress the competence of your service operations
Minimizes Call Handling Time
Save the clients from additional repair cost
A full display of associated entitlements and warranty issues
FEATURES of warranty tracker
Automated tracking of location, and  services record
Can be installed on handy devices like mobile for instant
Alert about the warranty period and renews the contract with a new warranty
Fully automated operations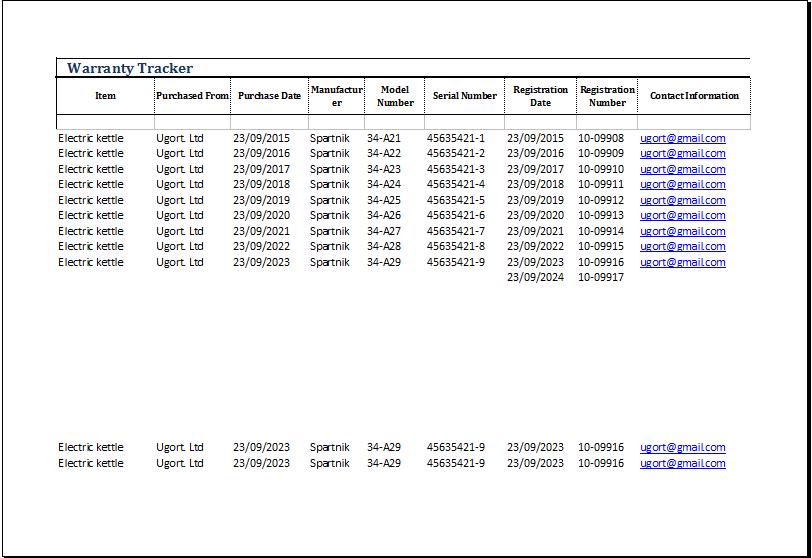 Download your file below.
Warranty Tracker Template
File Size: 29 KB
Download
---