Are you going to launch your product or you want to increase the hype of the existing business you have the best way is to run an effective marketing campaign? This could be done in a systematic manner. The first step is to convince everybody to set a common objective. A model for marketing analysis would serve as a helpful aid to propagate your marketing campaign. Once the goal is set and everybody is determined to reach the objective through strategic ways.
Whether your business will be successful or not depends on the marketing campaign you run for your business. A businessman is required to have a lot of unique marketing ideas that can help him run more marketing campaigns.
The marketing campaign tracker template is a great tool for you if you want people to get access to your business easily. No matter you are at the startup phase or you have a big business, you can always use the marketing campaign tracker to track everything effectively.
What is the campaign tracker template?
People who are not well skilled about running the marketing campaign should use the readymade campaign tracker that performs many tasks on its own and save the time of the user. It also performs the complex tasks that the user may not be aware of.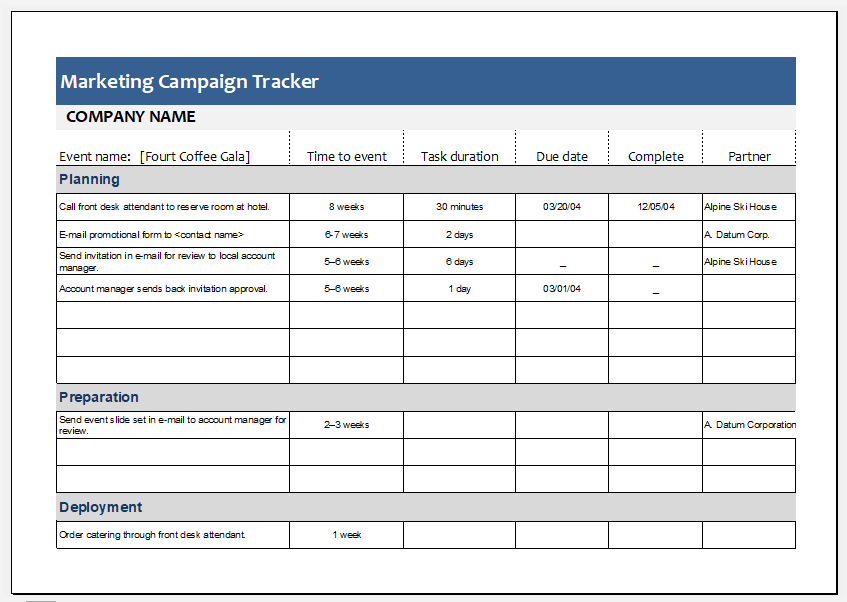 File: Excel (.xlsx) 2007/10
Size 10 Kb | Download
---
If the user finds that the template is incoherent with his marketing campaigns, he can simply modify the template in order to make it appropriate to be used. The user can either download the template or use it online.
A marketing campaign can be tracked by using a marketing campaign template that is presented online to download; it can analyze the data and details you require for your marketing campaign. In fact, other options to boost your marketing campaign is also highlighted on the web like the landing page with URLs but the effectiveness of using these templates could not be challenged as Marketing templates for tracking campaigns can be
Easily downloaded
Easily edited by customized options
Add your specific information
Monitor your updates
Track your assorted campaigns
Every business can utilize this marketing campaign tracker template whether if it is launching the campaign or to view data or consequences of a specific marketing campaign. It is a comprehensive option for online advertising, using private sites, social media promotions, and publicizing website postings. Use this customizable template for drafting an effective marketing campaign. By using the online marketing templates print brochure and pamphlets also and you can sketch beautiful posts for your social media sites.
Why you should use the template?
The template enables the marketing team to consider all the aspects of the marketing campaign that can let it make marketing success. The template also makes it easier for the user to view how much effort he has put in running the marketing campaign. With the help of the template, the effectiveness of each marketing strategy can also be seen so that the user can decide which strategy he should continue with.
As a matter of fact, a business runs a lot of campaigns when it launches its new products or starts providing new services. Not all campaigns can be successful at once. Some campaigns can be so successful while some can be just a waste of time and money.
It is important for a businessman to know which campaign is fruitful and which is not. For this, the user does not have to wait so long for the campaign to show the results. The campaign tracker can do it in no time.
---