For institutions, it is important to keep a track of attendance records. Student attendance sheet notes and tracks down the attendance of each and every student throughout the year. This template is used in schools, colleges, universities or tuition academies, where there are a large number of enrolled students. These institutions can be educational or training institutions.
Management including teachers can easily track leaves, vacations, and public holidays. Annual leaves and emergency leaves can be easily calculated.
Structure of the template:
The typical structure of a student attendance record template is as follows:
Name of the institution.
Name of the student along with student identification number.
Full information of a student like class and section, date of birth, address, contact number, and guardians contact numbers.
Months wise attendance! A student can be marked either :
P: Present
A: Absent
L: Late
Shows public holidays, absence, sick leaves and annual leaves of each enrolled student.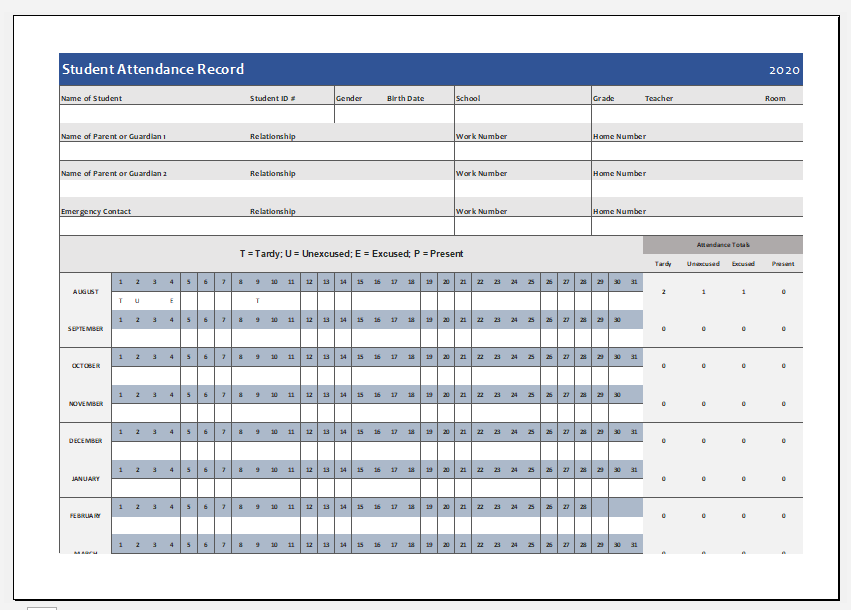 File: Excel (.xlsx) 2007/10
Size 17 Kb | Download
---
The student attendance sheet is used by teachers who are motivated and want an automated and error-free system for keeping a record of any absence of a student. Students can be inquired for frequent absences and coming late with the help of this template.
The template is not only beneficial for the teachers but it also helps the students in a way that they can be aware of their leaves. This serves as a device to check their leaves and ratio of attendance themselves, thus gives more room for improvement.
For exam preparation, they can easily check out which notes they have missed and what needs to be revised. A student can be rewarded for his full attendance throughout a session.
This student attendance template needs to be updated on a daily basis to keep a sound record and nothing is to be missed by the teaching staff. It is usually kept safe and is considered as the confidential information of a student and is not to be shared among other staff members.
In keeping and tracking the attendance of students in an institution, the element of time is very vital to the organization. The importance of time enhances the progress in achieving the goals. Every institution needs different attendance trackers for its smooth running and it provides the most information about the individuals studying within the educational and training institution.
School students attendance trackers
Attendance is a critical key reflecting the dedication and performance of a student. It suggests how attentively the student draws near the academic curriculum. When it comes to assessing the attendance of pupils in larger batches, manual evaluation is nearly impossible.
The School believes that students who attended school regularly are able to pass the assessments than students who keep absent.
For students in school every day get a chance to learn more about scholarship and other opportunities, and to attend the extra exams for an exclusive academic record.
Regular school attendance can also help students who are a week in learning by having the opportunity to gain the skills they need accurately.
The school presence will make your child learn, morals and values by contributing to the school community, social skills, and broader global learning is possible by attending school.
The pledge of the student to school attendance will also praise your child that education is a priority among everything in life and that it's vital to recognize your responsibilities.
A traditional student's attendance record generally comprises the name of students per class in alphabetical order. Their presence or absence marked on specific dates. A total number of days attended per week or per month and the number of days the student was absent from class. Furthermore, some calculations are done to take the percentage attendance for each student.
Nowadays these attendance sheets are conveniently generated via pre-designed student attendance templates.
---