Restaurant reservation log
Time is one of the most precious assets of anybody's life. People manage their time by using reservation log. People reserve halls in the hotel for keeping their business disciplined. When there are lots of requests of reservation coming up, it becomes difficult for the manager to entertain all of them.
The reservation is usually made on the hourly basis, and it requires some additional management skills of the manager.
Bringing the customers to the restaurant is the priority of the management of the restaurant. A safe and organized reservation system should be followed by a restaurant. The use of reservation system ensures that the particular room or seat has been reserved for the customer.
The reservation log is used to reserve hall for the room, conference, meeting or any event, etc. The reservation system is used by most of the restaurants while some use the policy of first come first serve.
Benefits of reservation log:
The reservation log facilitates the customers of the restaurant by enabling them to reserve a hotel in advance.
It saves money and time of the customers
The use of reservation log makes the working of the restaurant smoother.
The restaurant can also suffer from loss because of booking hall in advance. Sometimes, the parties after reservation cancel their plan at the last moment. In such a case, some restaurants also take the advance money while reserving.
The manager of the hotel requires some additional skills of time and space management while using the reservation log. There is different software that is used by the restaurants for handling the complex task of reservation.
Key elements of the restaurant reservation log:
The main details of the reservation log are:
The ending and starting time of the reservation
The purpose of reservation
Booking fee paid in advance
Other services included with reservation
Signatures of the customer
Capacity of the available halls
The reservation log template can be downloaded from here.  The template enables the person to save his time and money by downloading and printing it free of cost.
Preview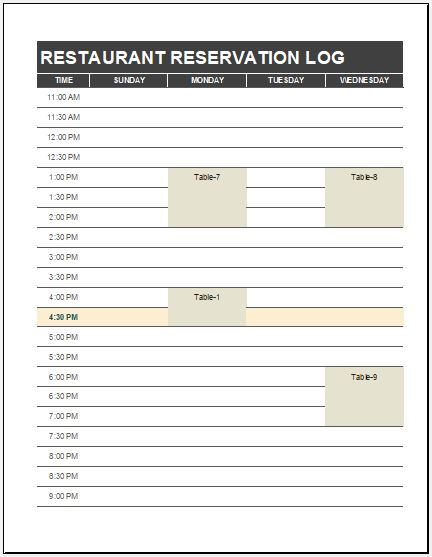 Restaurant Reservation Log Template
File Size: 32 KB | Format: MS Excel
---