Sales Record Sheets
Your company's sales record effectively displays the marketing information resources. Customer purchases data with addresses, amounts, dates, product name , payment methods and returns all delivers the comprehensive scenario of company's progress. This is a really helpful tool to analyze the customer trends and you can focus on your most reliable clients. It gives deep observations into the most functional marketing approaches. Whether you are an individual seller or a set entrepreneur, you have to keep track of your product sales, reports, and customers in one place.
The record could be drawn on a simple sheet, a sheet or a double entry based paper. To keep things simple most firms use simple record sheets to keep a record of their product sales executed on a daily or monthly basis. This sheet helps in maintaining the inventory, track list, the daily sales account and another listing conveniently. The numbers, dates, and product names are orderly written in the column, so you can check for anything anytime.
You can enter the matter on a regular basis in the product sales sheet and draw a graph of your annual sales through this convenience. The number of commodities from the stock sold with the price at which the manufactured goods is sold is maintained properly through such sheets with the listing of shops to which the merchandise is traded. The product quantity and returned products all could be displayed in such product sales record sheet. The final credit column shows the transactions received.
Technology has eased the operations and such product sale record chart is available as pre-designed templates where you have to just add the digits for automated calculation.
Product Sales Record Sheet Template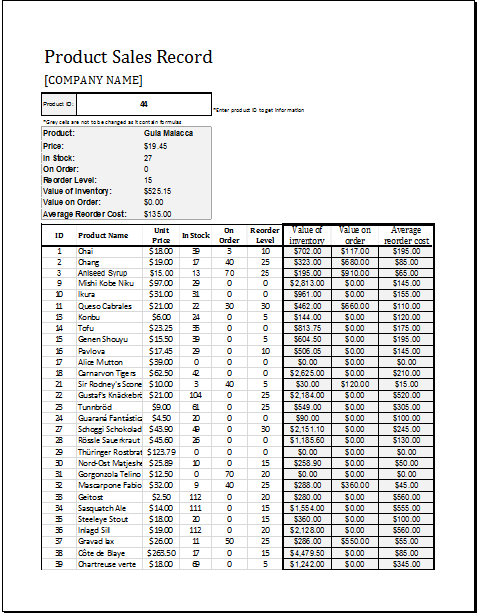 Download your file below.
File Size: 47 KB
Download
---