Workplaces are different depending on the services they provide to their customers and facilities to their employees. Some employers make it easy for their employees to work and enjoy while they are at it. Similarly, others give them a hard time with their employees without any specific reason.
Every workplace has a set of rules that they are responsible to follow. One of such rules is the daily cash count. It is described as counting the profit or cash received each day. This cash is collected in exchange for the services or products provided to the customers.
A daily cash count sheet is a written document maintained to keep track of all the earnings of any business daily. It gives the in-charge an idea about the total earning of a day thus, indicating if the business is at a loss or profit. The sheet is usually maintained by small business owners because earnings of $5 can have a huge impact on their business.
The sheet can either be manual or digital. Manual sheets are filled by the cashier or employer as any customer makes a purchase or any profit is gained.
At the end of the day, a total of every entry indicates the total profit of the business on a particular day. Businesses enjoying great profit each day have a digital cash count system because all their purchases are entered digitally to avoid human error. By using a digital system every penny can be accounted for.
Cash count sheets are very crucial, particularly for small business owners because of their following advantages,
They are very simple and can be maintained easily by any person.
They can be customized depending on the choice of the user.
Cash count sheets can be modeled to draw inferences either daily or weekly or monthly.
The sheet provides a full picture of sales that happened all day.
It depicts the true state of business, whether it is booming or losing.
After excluding the amount for buying more products, daily profit can be calculated.
Organized data is produced which can later be viewed if necessary.
The sheet can be used for keeping a check on inventory thus, making sure that no product finishes completely before it can refill.
Template
Daily cash count sheets are very simple and are constituted on columns. Every column represents a different activity that gets filled by the end of the day. Most owners make a detailed cash count sheet which allows them to keep their inventory in check. Name of product bought, its price and profit earned thus, everything is included in the sheet.
The sheets are available on the internet and can be used instantly after filling in the required information. These sheets are simple and can organize according to dates.
The template is provided below,
Name of Business
Logo of Business
Cashier's Name: [NAME]
Date: [DATE]
| | | | |
| --- | --- | --- | --- |
| Item number | Name of item | Price of item | Profit earned per item |
| | | | |
| | | | |
| | |
| --- | --- |
| Hundreds | |
| Fifties | |
| Tens | |
| Coins | |
Total Cash: $[CASH]
Total Profit: $[PROFIT]
Preview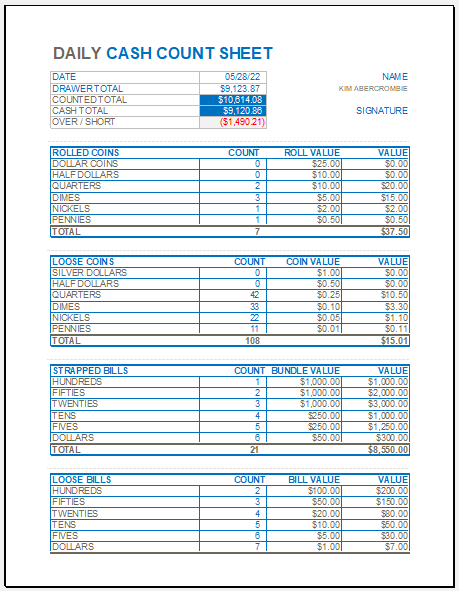 See also:
---