Organizations and companies are run by hundreds of employees who work day and night to achieve their designated goals and make their organization successful. The bigger the company, the more are the employees. Most of the employees are permanent and do their assigned jobs regularly while some employees are hired on a temporary basis due to their expertise, these employees are known as visiting employees.
Visiting employees provides a skill set that permanent employees do not have. Whenever an organization needs extra services, they hire visiting employees to complete the job. Visiting employees may either be paid hourly, daily, or project wise depending on their suitability. The hourly paying system is preferred over others due to its simplicity.
Visiting employees are also known as freelancers as they work on some projects but are not bound like permanent employees. Visiting employees may work from home or visit the company's office depending on their contract with the company.
A payslip is an official document presented to an employee by his employer. It provides a detailed view of employees' salaries and deductions if any. Hourly payslips provide details about the number of working hours of the employee and are generated either daily or after the project of visiting the employee is completed. Organizations are responsible for providing payslips to every employee as proof of their salary payments and deductions.
Components of a payslip are general and payslips from different workplaces may be similar. It has two major factors i.e., earnings and deductions.
Earnings of an employee include basic salary, house rent allowance, medical allowance, special allowance, and conveyance allowance. All these factors sum up to the basic salary of the employee. Deductions include tax payments and employee provident fund contributions. After deductions, the gross salary of an employee is evaluated. For hourly payslips, a number of effective hours are also mentioned.
Payslips are very important for employees as they can be used in various places. Some of the essential uses are given below,
Payslip is the only assurance of an employee's salary therefore it is very crucial.
These payslips are used while taking loans from banks as proof of paying installments.
Payslips allows an employee to view all the deductions and make sure everything is accurate.
Payslips can be challenged if there are any issues related to salary.
Template
The layout of a payslip is quite simple and does not include any colors or images. They are just printed with text on plain paper. Every employee is entitled to their payslip from the employer at the end of every month.
The template for an hourly payslip of a visiting employee is provided below,
Name of Organisation
Logo of Organisation
Name of employee ……………………
Designation ……………………………..
Department ……………………………..
Date of joining …………………………..
Worked Hours ………………………….
Paid period ………………………………
Earning
Basic Pay
Incentive pays
House rent allowance
Medical allowance
Conveyance allowance
Special allowance
Total Pay
Deductions
Professional tax
Employee provident fund
Loan
Total deduction
Gross Salary:
______________ ___________
Employer sign.                      Employee sign.
Preview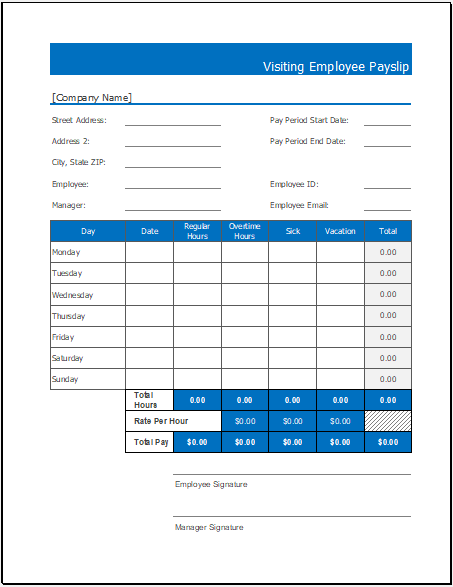 See also:
---