Pet sitting is a service that takes care of pet animals. The pet owners are provided a charged service to look after their pets if the owner is busy or away. With the growing need, more people are getting involved in keeping pets and hiring pet sitters for their take care. This caregiver is skillfully trained and certified. In fact, by insurance coverage, emergency support is also provided by pet sitters sometimes. The pet-sitting industry is growing directly proportional to the growth of the pet industry.
The advantages of pet sitting are:
Pets are being cared for in their own homes
The traveling cost and stress of pets are saved
Minimum contact with external ailments and pollutants
Pets are happy as they are not facing a new environment
No inconvenience for other people likes the host where the pet owner go for a visit
Pet sitters are licensed and usually insured for the responsibility of controlling, caring and for their custody theft. Pet sitters are completely trained individuals, such as they are skilled in pet first aid care, animal husbandry, or in the field of pet sitting accreditation. The pets' diet and exercise routine, medications, along with nursing for their health and arranging for medical facilities are the core job of pet sitters. Pet sitting includes vacation pet sitting, dog walking and dog or other pet's boarding categories.
Pet sites can craft a pet sitting invoice but it takes time and great skill to create a pet sitting invoice that is customized and comprehended easily. Templates are available free of charge with customizable options to create your invoice to be used urging pet sitting. The template is designed for pet owners and pet sitter' facilitation which is downloaded from free templates websites.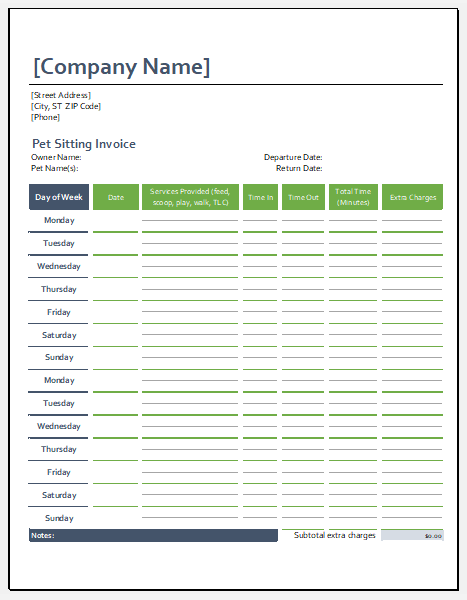 File Size: 14 KB
Download
---