Moon Phase Calendar
Moon can tell us about different things. In the past, people used to use the moon to calculate many things. Some cultures regard the phases of the moon as important. Important dates are calculated according to the motion of the Moon.
What is Moon Phase Calendar?
A moon phase calendar clearly shows the phase of the moon on a certain day in the month. It will have this for the full year. It will show the Full Moon, as well as New Moon, along with other main phases in yearly and monthly calendar formats.
What to Include in a Moon Phase Calendar?
If you need to create a moon phase calendar you can consider the below points:
Microsoft Excel– This template can be created in Microsoft Excel so that it is easy to understand.
Heading– It is important to have a heading so that you know exactly what the document is for when needing to refer to this later on. For this, it can be "Moon Phase Calendar" for instance.
Year concerned– It is necessary to state the year. You will need to know this. If it is for the year 2019, write this clearly.
What time zone– State the moon phases based on which time zone so that this is known.
Calendar– There will then be a calendar for the complete year. Have the month, day and date as this is easier to understand. It will be a normal calendar that can be filled in. It will have all the months for the full year.
Filling in– Fill in the calendar carefully. It will have the moon phase on a certain date. For instance, if the moon is full then it will be full white color for instance. If it is half or quarter, then it will be filled in with white and grey for instance. On days that there was no moon, the date will be left empty. It is better to do this with the full year so that you know clearly which dates there was a moon and if it was full or half and on which dates there was no moon at all. You should have symbols for the different phases of the moon. In modern calendars, a full moon is a fully white circle. The symbol should be present so that it is known what the moon is.
Advantages of the Moon Phase Calendar:
The moon phase calendar has the following advantages that make it an important document:
Allows one to know what date the moon will be full, half, quarter, etc.
Can be used when wanting to plan events
Some religions regard the moon as being very important in determining important dates
Final Words:
A moon phase calendar is a calendar that can tell one what the phase of the moon is on a certain date. This can be used to plan different things. Some people think that according to the moon one has certain feelings, etc. In pregnancy, some ladies think that if there is an eclipse then they need to be alert. It will help people know about these things.
Preview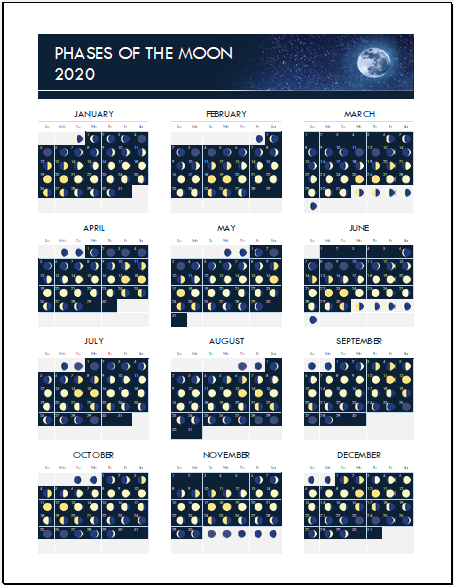 ---