Itemized sales bill can be used in any type of business. This type of sales bill can be sent to the client as soon as you complete all the tasks assigned to you. If you are a seller and you have sold several products to your clients. You can enlist all those products in the invoice which is known as itemized sales bill. This invoice also includes the price of each item in front of the item's name.
What are the key elements of the itemized sales bill?
The main details that are added to this type of bill are:
The date of issuing the bill
The names and description of each item purchased
The price of each item
Shipping charges
Total amount to be paid
Terms related to payment
The main purpose of the sales bill is to collect the payment from the client. It is a formal way to request the clients to pay for services rendered. When the client pays the bill, it is stamped. The stamped sales bill is proof that the payment has been paid by the client and now there is nothing payable.
How to create itemized sales bill?
This sales bill is most of the times prepared in MS Excel format. It is useful to create the sales bill in Excel as it has some built-in formulas that make the calculation fast and accurate.
There is a restriction to follow a specific type of format in order to create an itemized sales bill. Here are a few tips that you can follow to make the sales bill for your business
Add the name of your company and contact details at the top
Add the address of the person who is payable.
Mention the description of all the items that have been sold.
Add the unit price of each item as well the number of items purchased in the description section
Add the total amount the client is required to pay along with the details of sales tax if applicable.
Preview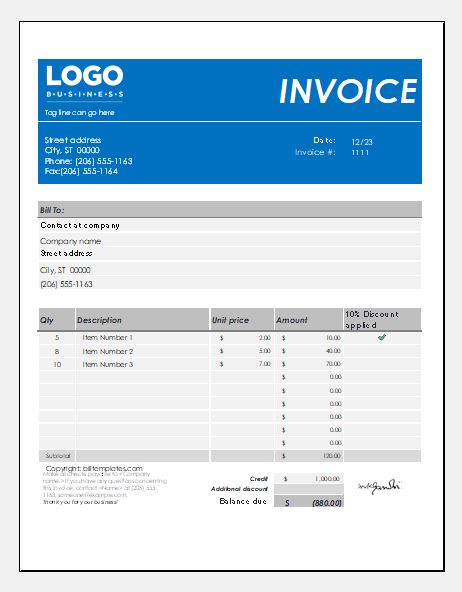 The template
Format: MS Excel [.xlsx]
Download
[Restricted use]
---
The grocery shops can use this billing invoice to demand the payments from their clients. The invoice calculates the number of items ordered along with their quantity and rate. The total is summed up and the invoice is given along with the order. The invoice is very useful to create customers trust for future home delivery orders.
---