What is the shipping services bill?
A shipping services bill is a document that is used to record all the goods which have been traded. It is a type of written agreement between the customer and the company providing the services of transporting goods.
Just like any other company, the shipping company also demands the money in exchange for services. Transportation company issues the shipping services bill to its customers.
Shipping services bill is also very important because it describes the carrier who was responsible for carrying the goods from source to destination. This will also specify the conditions for transporting the goods. The means of transportation such as the sea, air, land should be specified in this document.
The main purpose of using the shipping services bill is to request an amount of money from the customer or any business. In some cases, this services bill is also known as receivable which is sent to customers through email or through fax.
The party which is liable to pay the shipping company is required to pay within 30 days generally. It is important for the shipping company's owner or other stakeholders to sign this document before sending so that it can be authenticated.
What is the format of the shipping services bill?
At the top of the bill, the title of the document is included along with the name of the company. The contact details of the company such as address, telephone number, and email address are also mentioned at the top.
After giving the details of the company the details of client/customer such as address, telephone, name and email address should be mentioned.
The name of the product, the product ID, description of the items, per unit price of each item, total price of each item should be written in the services bill in the form of an itemized list.
At the end of the bill, the total amount should be calculated.  Make sure that the total amount is calculated with complete accuracy in order to avoid any type of conflicts with the customers.
Preview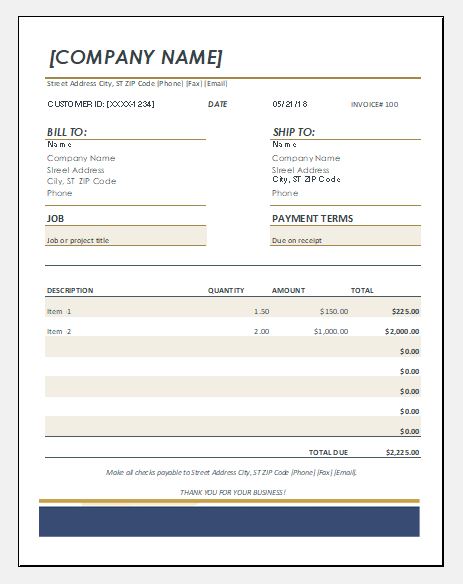 The template
Format: MS Excel [.xlsx]
Download
[Restricted use]
---
The equipment companies send heavy equipment to different industries or factories upon their order along with the billing invoice. The invoice sums up the charges separately of all the items with the discount provided. This is a very safe and expedient mode of demanding the payments on time. The company can easily track and record the transactions made. The billing invoices are a very useful tool for future considerations.
---