A handyman is a professional person who performs a little renovation and repairing work in a building. Every house and commercial building to subjected to different problems such as blocked holes, leakage in pipes etc. These problems make the person's life very uncomfortable. In such a situation, hiring a handyman becomes inevitable.
What is handyman service bill?
A handyman service bill is a professionally used document which is used to record all the services provided by a handyman. This bill includes all the details about all the services of a handyman as well as charges of all the services.
What should be included in the handyman service bill?
The main details to be added to this service bill are:
The list of all the services that a handyman has provided such as plumbing etc.
Total number of hours the handyman has worked as some handymen charge on the basis of hourly rates
The details of payment including a total amount to be paid by the customer as well the deadline required to be met
If there is a team of handymen working to complete the task, the names of each handyman, as well as a sales representative, is mentioned in the service bill.
The date on which the services of handyman were rendered is also mentioned in the handyman service bill.
Benefits of using a handyman service bill:
The potential benefits of using the handyman service bill are:
You let the customers know about the work performed by the handyman in detail as every customer wants to know about the services availed and the charges of each service.
You can easily include all those items and labor work in the service bill that have played their role in completing the task.
The use of the handyman service bill is the best way to communicate your contact details with your customers. The customers can then contact anytime in the future.
Many people also use readymade and easy to customize template of handyman service bill. This saves them from wasting their time on preparing a service bill from scratch.
Preview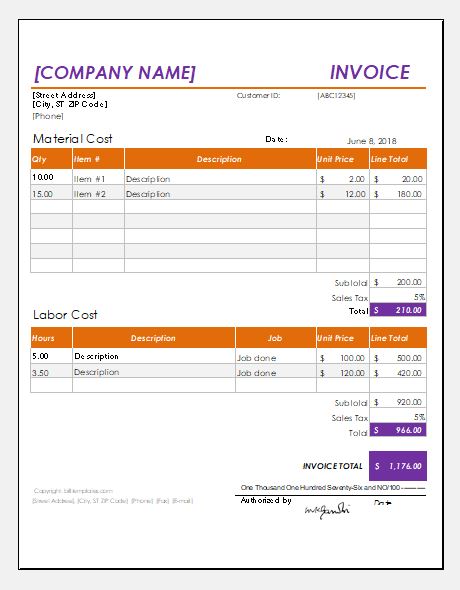 The template
Format: MS Excel [.xlsx]
Download
[Restricted use]
---