What is the rental services bill?
Billing and invoicing is a very important part of any business. A bill is a type of communication between the customer and the company. It is, therefore, required to be prepared in a professional way.
A rental services bill is designed for receiving the rental amount from tenants. If you are a landlord and your all expenses depend on the rental amount received from the tenant, you are in need to use the rental services bill to ask your tenants to pay you. In other words, the rental services bill is a formal way to demand the rent to be paid. This bill is commonly known as a rental invoice.
 What should be included in the rental services bill?
The rental services bill should include the details that are necessary to document the rental amount transfer from the tenant to the landlord. Basically, includes:
The date of issuing the rental bill
The amount of rent, the tenant is required to pay
The signatures of the landlord to authenticate the bill
Due date of paying the rent
Rent amount after the due date
Terms and conditions of paying the rent
The sample of the rental invoice has been provided on this website. This sample is very important for those people who want to create a bill for their business with complete ease and comfort.
MS Excel is the best format to create the rental bill in. However, you can also use MS Word or PDF file to create the bill.
Rental services bill template:
The rental services bill is a form that a landlord fills and then issues it to the tenant. It is very simple, and the user is not required to learn any complex things about the billing system, unlike other accounting systems. You can also print the invoice if you want to get the hard copy.
If you want to get a services bill in the MS Excel file, you easily add or remove several columns from it according to your needs. This customization feature makes the services bill template extremely useful and handy tool.
Preview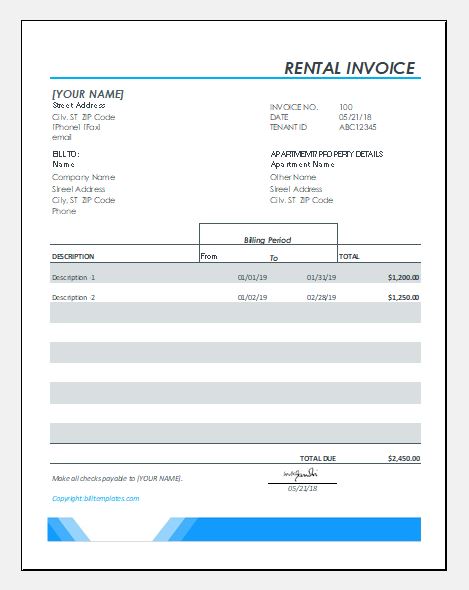 The template
Format: MS Excel [.xlsx]
Download
[Restricted use]
---
The landlords use the rental invoice to receive the rents from the tenants. The bill plays a vital role in the timely receiving of payments. These bills are mentioned as a compulsory part of landlord and tenants act. The bill holds the address of the sender and the receiver. The payment is charged upon the billing period. The rental invoice should be used by all the landlords for renting the property as they can easily demand the charges due to the tenants.
---