It is a common practice for every business to keep track of the supplies that are brought to the office to make it perform its routine work without any interruption. There are different assets in an office, some of which are used frequently, and some go completely wasted. If you keep track of all the office supplies, you will be able to easily get rid of the material that is not much needed.
What is an office supplies entry worksheet?
It is a type of simple journal that is maintained by the organization to ensure that it keeps tabs on all the items that are purchased by the office to perform its routine work. It is very important to monitor these supplies because an office has to pay for all these items. Therefore, one can easily ensure that they are not paying more than what they have to pay.
If you are working in the accounting department or your work is closely related to the job of accounting, you can realize how much value any record-keeping tool adds to the company's day-to-day operations. Many people don't know how much they are supposed to pay at the end of the month for the commodities they have purchased for an office. When they use this worksheet, they can easily calculate the total amount to be paid.
People have an office account in which they keep a record of their credit and debit details. These details are easily obtained from the record sheet.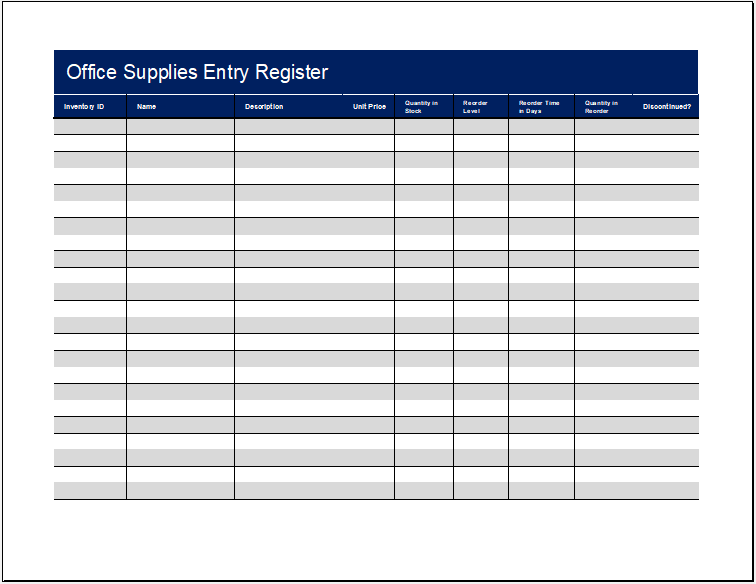 Excel Worksheet File Size: 55 KB
How to use the office stock entry record sheet?
The best way to use this sheet is to make an entry to it as soon as a supply is purchased. This sheet is generally available in the form of a vertical list in which the user keeps adding the names of new supplies. Follow the tips given below for effective use:
Use it immediately:
For effective record-keeping, it is important to maintain the record with full attention and focus. As soon as you receive supplies for your company, make an entry to your record sheet. When you make the entry immediately, you enter accurate details such as date, time of delivery, the total amount paid, etc. Not delaying making an entry makes it easy for you to maintain a record without any hassle.
Make entries correctly:
There are different columns in this worksheet that are required to be filled correctly. If you have bought supplies credit, you should mention the price in the supplies section. Similarly, if the amount is being paid in the form of cash, mention the cash amount in the relevant section.
Keep track of different supplies:
For more ease and simplicity, many people divide their office supplies into various categories. For instance, you can also divide supplies into supplies bought at the beginning of the month, supplies bought at the end of the month, the number of supplies left at the end, and much more. Just like supplies, the worksheet is also divided into different sections and then each section is dedicated to one type of information. Make sure you put the right information in the right column of the spreadsheet.
Keep track of expenses:
Many people make use of this record spreadsheet because they don't want their office to go out of stock for any product. These people then use several other tools when they have to take note of expenses. If you use this sheet you can fill in another column that is aimed at recording details of the cost an office incurs. If you make use of this column, you will not have to take several accounting-related measures.
Use the template:
If you are someone who wants to use the office supplies entry spreadsheet but don't know how to create one, the best option for you is to use the template. This is the best way to get the readymade worksheet that can be used immediately after it has been downloaded. It saves the user from lots of effort that he would have put into getting a record sheet that can record the details of the office supplies.
---