A sales bill template is used to document the sales that take place in any business. It is a very commonly used document in a business that is issued by the company to its customers after selling different items.
The sale bill always keeps the record of the sales conducted in a business on a specific date. It is a very useful document for you if you want to get money from your customers. The main purpose of using this document is to handle all the transactions that take place between the buyer and seller.
Whenever the seller wants to get the money upon request, he must use a receipt on which all the sale should be documented. This will let the customer know the amount of money he has to pay.
This document outlines all the conditions for the sale to take place in a business.  It is more commonly used for the sale of the car, mobile phone or any expensive item. This document basically provides protection to the seller who gets money in exchange for items.
Sales bill document is also known as a sales receipt.  The purpose of using this receipt is to document all the details of the sale such as the price of the item, the date on which sale took place, the quantity of each item and a lot more.
It also includes the details about withholding tax on the price of the item. The business can calculate the total revenue generated at the end of the money by looking at all the sales bills.
Sales bill template:
This template is being used these days very commonly by all those businesses that want to save their time avoiding preparing this document from scratch. The template is very useful because it enables the business to track its progress easily.
If you want to have a personalized sales receipt, sales bill template is for you. This template includes different sections.
This form includes different empty fields where the user is required to input the details about the sale. Once you get a readymade sales bill template, you can focus entirely on the processing of bills.
Preview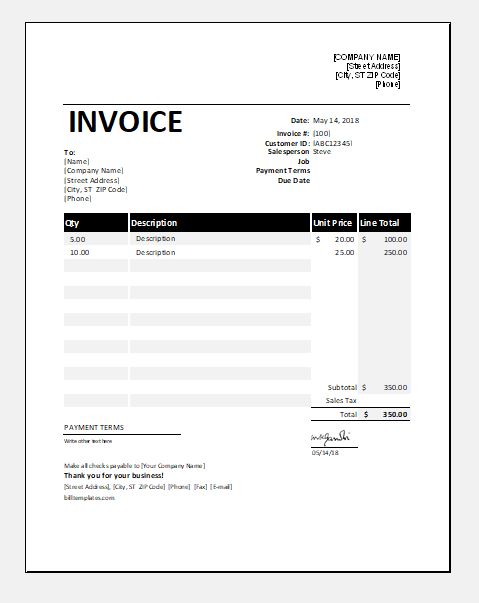 The template
Format: MS Excel [.xlsx]
Download
[Restricted use]
---