Car rental services bill is issued by the car renting company to its customers when they hire a cab or a car for a specific period of time. The bill is prepared by the company and then sent to the address of the customer.
This service bill includes the details about all the charges that the customer incurred. The traveling distance is also mentioned in the service bill since the bill amount also depends on the distance covered by the car.
What is the car rental service bill?
It is a formal type of invoice that works by documenting all the details about the miles covered by the car, the consumption of fuel and the salary of the driver. Some car renting companies charge their customers on the basis of a number of hours they spend after hiring the car.
The car repair charges are not included in this service bill as the customer is not responsible for providing repairs to the car. The car owner has the responsibility of keeping the car well-maintained so that the customer can drive it with complete convenience.
The driver of the car is also hired by the renting company and the salary is also decided by the company. The customer has nothing to do with the salary of the driver rather; he is informed about the total amount of money he has to pay after he has availed the car renting services.
If you are running a car renting business and you want to request your customers to pay in exchange for different services, the car renting services bill is for you. This bill is usually prepared in MS Excel as there are many pre-defined formulas in this software that calculates the bill automatically with complete accuracy. The user is not required to learn the method to calculate different things when he or she is using MS Excel for billing its customers.
The template for car renting services invoice is a very useful tool for all those people who want to save get a professional looking and unique services bill for their business.
Preview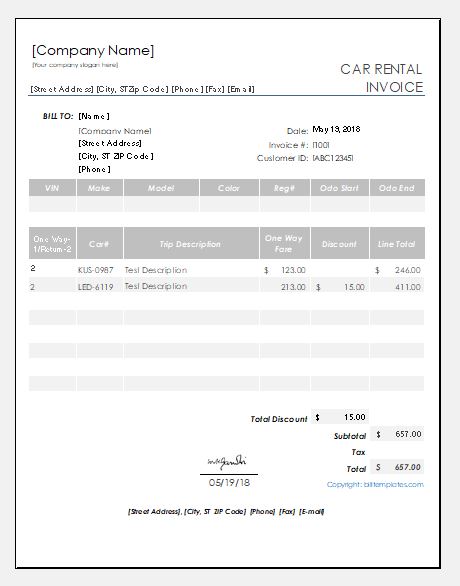 The template
Format: MS Excel [.xlsx]
Download
[Restricted use]
---
The car rental invoice is used by all big and small-scale car renting companies. With the help of this bill; the companies can manage the charges due to the clients easily. The car rental companies find a great deal of ease due to such detailed invoice facility regarding the payables dues on the respective clients. The bill calculates the amount charged per trip whether it is one way or return. Some companies also provide discounts on some dedicated number of rides. Additionally, the car's model number, registration number, and color are also mentioned in the invoice. These things provide ease in managing charges, returns, and profits.
---