Carpet cleaning bill is used by those people who provide cleaning services. The purpose of this bill is to let their customers know about the total amount they must pay. In other words, carpet cleaning service providers request their customers to pay them for the services they have provided through the carpet cleaning bill.
Carpet cleaning bill plays an important role in a carpet cleaning service provider. It is important for you to determine the right cleaning bill for your business. Choosing the right carpet cleaning bill depends on how often you provide cleaning services to your customers and how often you ask them to pay you through a cleaning invoice.
You should be aware of the right format and structure of the cleaning will that will be helpful for you in collecting the maximum amount of revenue.
The carpet cleaners usually issue the cleaning bill to their customers, right after the cleaning service. Those cleaners who must make multiple visits on the site should include all the visits in a single carpet cleaning bill to be paid.
Carpet cleaning bill is the main priority of every service provider if he wants to bill his customers in an efficient way. It is important to include all the necessary details in the invoice to that the customer can know about the total amount.
All the important items such as tasks, time, the material used should be mentioned in the cleaning invoice individually. The due date, as well as the invoice number, should also be mentioned in the clearing bill. It is always recommended that you issue the bill as soon as you complete your job.
Make sure that you provide the maximum ease to your customers when it comes to payment method. Choose the payment method which is widely used. The more you will please your customers, the more your business will be successful.
A professional looking cleaning bill always makes a big difference. Many businesses get the online readymade cleaning bill template to use a professional looking invoice for billing their customers.
Preview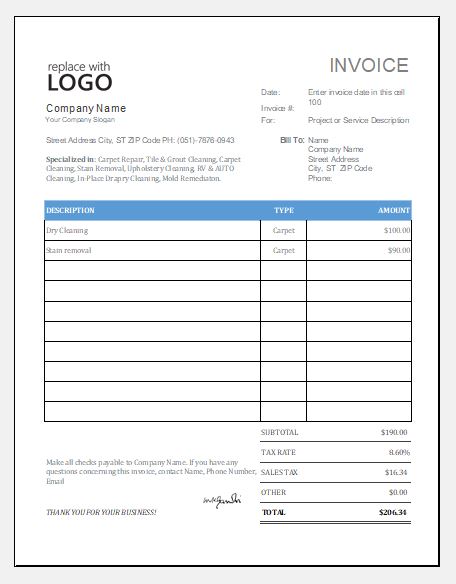 The template
Format: MS Excel [.xlsx]
Download
[Restricted use]
---
The carpet cleaning services provide a great facility for the different services related to carpet cleaning at doorsteps. These small-scale shops have a proper billing invoice that describes the charges incurred upon the type of service benefit. The bill is demanded upon completion of the service. The bill also advertises other services provided. The billing invoice also provides a great deal in advertisement and genuineness of the services provided.
---