Hotel services bill is issued by the management of the hotel to those people who stay in a hotel and avail the services. It is not only a room or a place to stay provided by the hotel, but it provides all facilities and comfort.
When a hotel provides good services to its customers, the customer is liable to pay for the services received. Hotel services bill is prepared by the hotel to keep a record of every customer and amount to be paid by them. Amount of money required to be paid by the customer is also tracked by the hotel services bill.
A hotel is a place that provides temporary residence to people who want to stay there. There are several services that are provided by the hotel such as room services, internet facility and a lot more. The purpose of these services is to satisfy t6he customers.
Every hotel tries to provide high-quality services to increase the satisfaction level of their customers. When the hotel management provides the services, the customer is required to pay in return.
What are the main duties included in the hotel services bill?
The details to be added in the services bill varies from hotel to hotel. However, there are some details that are required to be written in the bill of every hotel. Some of them are
Name of hotel and other details
Name and contact details of customers
Amount of payment made by the customer
Services rendered by the customer
The date on which bill was issued
Details about check in and check out
All these details are important for the management of the hotel as well as the customers. Adding a check in and check out details lets the management of the hotel know the total number of days and hours the customer has spent in the hotel.
Similarly, the customer can also confirm all the details before paying the bill off. Some bills also include the details about some additional services rendered by the customers.
Preview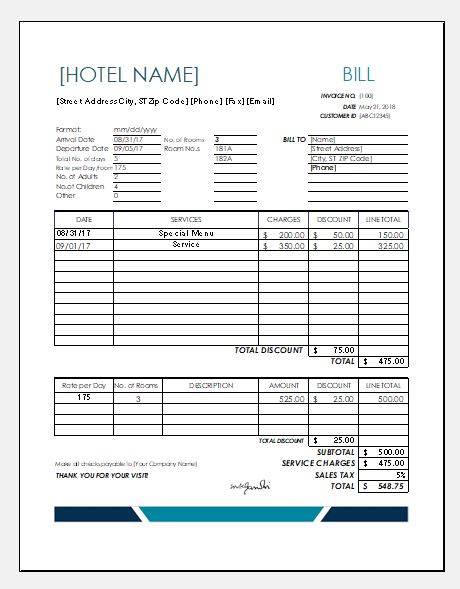 The template
Format: MS Excel [.xlsx]
Download
[Restricted use]
---
The hotels use hotel bills to demand the charges payable by the customers. It is very convenient for the hotel management to request the bill for the food and services provided. An appropriate team is assigned from the staff to manage the billing system with the help of different billing applications. The charges applicable on the customers are based upon the time period i.e. the number of days, number of rooms, and charges per room. Additionally, the charges of food ordered, and services availed are also added.
---