We all have different family events. These let us meet our relatives and enjoy time with them. If your family has many events, you may forget these. You will, therefore, need something that can help you remember when a particular family event is.
What is a Family Annual Event Calendar Template?
A family annual event calendar template is for busy families. It helps them remember when important family events are.
How to make the calendar template?
If you need to create a family annual event calendar template you can consider the below points:
Microsoft Word or Microsoft Excel– This template can be created in Microsoft Word. You can make it in a table form. The template can also be created in Microsoft Excel.
Clear and easy to understand– It is important that the template is made it easy to understand so that you will clearly know when a particular event is. You do not want to miss any event. It should not be confusing.
Heading– The heading of the document can be the name of your family, then "Family Annual Event Calendar." Make this in a bigger font so that it stands out.
Year– State the year that the calendar template is for.
Important dates– Give this heading.
Table– Have a table that states the day, event, event type. You can describe the event so that it can be remembered. Write the date in full letting you know which day the event is on. Event type will be if it is a public holiday, birthday, etc.
Months listed– The template can even be made with boxes that have all the months listed. The boxes can then have space in them. In this space, you will write what event is in that month. Also, state the date and day clearly so that you know this as well.
Be able to stick– Make the document such that you can stick it in the fridge, wall, etc. You need it present in a place where you can easily consult it. You can, therefore, design it, so it is colorful and attractive, but it should not be confusing.
Advantages of family annual event calendar template:
Below are the advantages of making a clear family annual event calendar template:
Let's you know when an important family event is.
You will not forget any family event if it is saved on such a template.
You can plan before the event as you will know when the event is and what the event is.
Final Words:
A family annual event calendar template is for those people who do not want to forget any family event. This template can be made to add new entries easily when needed. Our lives are busy, and we do forget dates; therefore, this template can help remind us when a family event is. We can, therefore, prepare accordingly for it. You can consider the above points when creating this template so that you can have a clear template.
Preview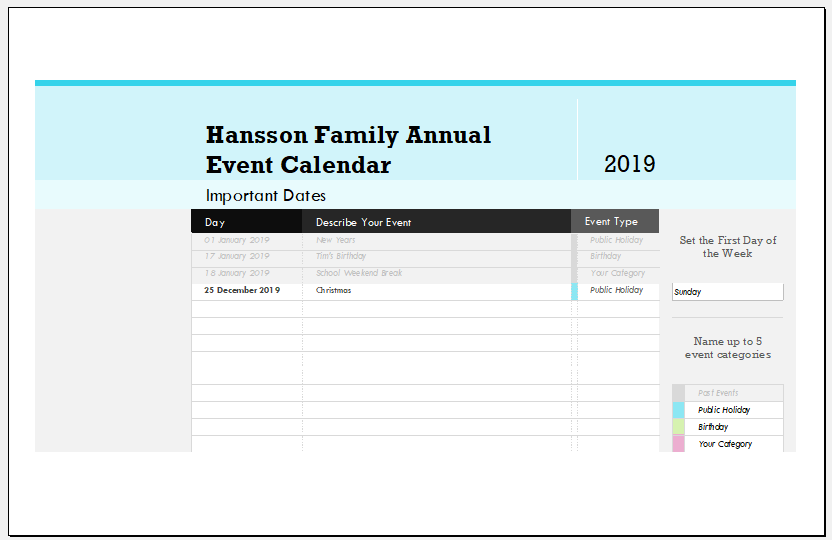 Format: MS Excel 2007/+
File Size: 109 KB
---