PROFESSIONAL BALANCE SHEETS
In order that any business makes a profit and flourish, it is important to know the financial status of the business. In order to make further improvements in the business yearly comparison balance sheet is the best way to Judge Company's statuesque, it is a very systematic and arranged way to show company's status. The right balance sheet will company a sparky bounce in order to get higher rank in the business market.
Comparative balance sheets basically an analysis of assets, liabilities, and equity related to some business. If it is prepared on an annual basis then it is called yearly comparison balance sheet. It basically provides the reader with all the information regarding his finance. It will help the business owner to know his exact assets and liabilities.
The typical format includes the detail of current assets fixed assets current liabilities and shareholder equity. In current assets, there must be details of cash, accounts receivable and inventory. The current liabilities include accounts payable, accrued expenses short term debt, long term liabilities. It consists of two columns, in one column there are details of the business assets, in the second column there are details of costs.
BALANCE SHEET TEMPLATES
It can save one's time and energy and prevent from the long and detailed calculation and will always give exact results. This balance sheet can be either manually created or it can be created using a software usually MS Excel. Nowadays it is available in the market in the form of a readymade document. The available template will help one to maintain the record of his business assets.
YEARLY COMPARISON BALANCE SHEET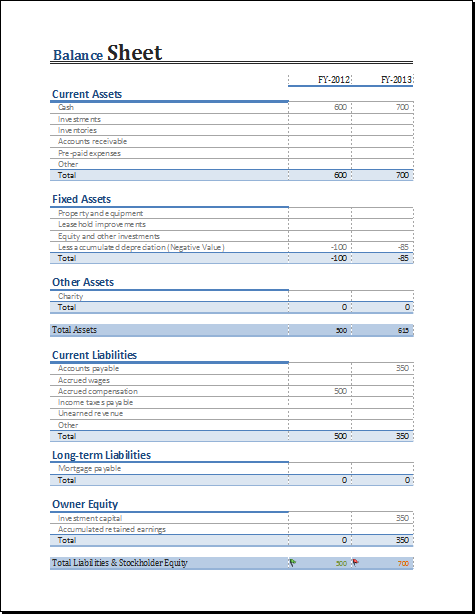 Download your file below.
File Size: 40 KB
Download
---