It is said that a book is a man's best friend. An intellectual one said that books are the friends who you can fully trust. They don't backbite, they don't disturb you, they take you to places you never were, they tell you stories of ancient people and most importantly they're always there whenever you want to turn towards them. So yeah! Books are great friends.
In this age of technological advancement, most people have abandoned this friend. Those who read books prefer to read them online. This is one reason that we see libraries having only some countable readers. Nonetheless, book reading is still the most favorite hobby of some people and for some, it is as important as breathing fresh air. All such book freaks turn to libraries to quench their thirst.
Libraries where there are millions of books, the process is record keeping is a hectic job there. People also borrow books from libraries other than reading them there. Some people are too 'honest' to never return the borrowed books. In order to tackle such situations, library book checkout sheets are used.
These sheets record details of the borrower and dates when a book is lent to someone and when it is returned. At times, there are books that are in limited stock. In the case when all copies of the book are taken home by readers, a checkout sheet helps to inform the new readers that such a book is available but is currently not available at the library. This way a library book checkout sheet serves more than one purpose hence a multipurpose sheet.
Usually, a simple library book checkout list records
Name of the borrower
Contact details
Date borrowed
Date returned
This is especially useful if you're having your own library that you've opened for public use. Below is a library book checkout sheet template that can help you.
Preview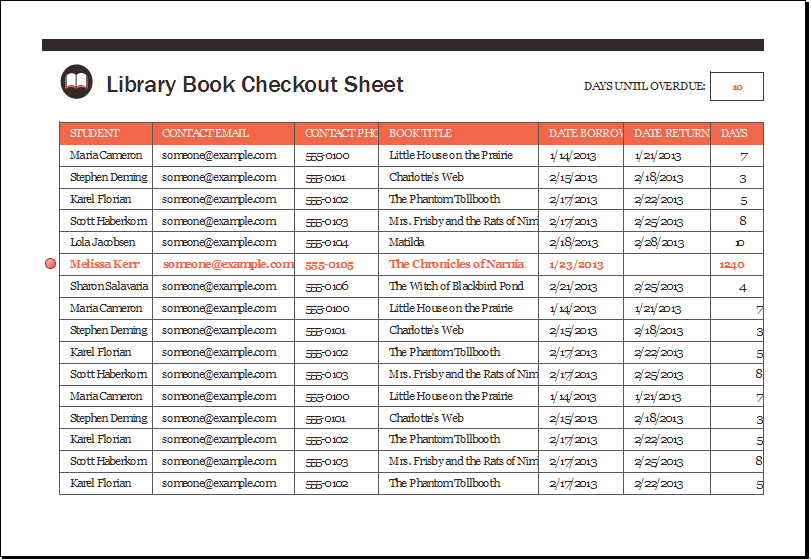 Download your file below.
Library Book Checkout Sheet Template
File Size: 215 KB
Download
---