We live in a world where people are socially connected with one another. They form different communities at times, for example, people of some specific area might form their community, a particular ethnic group might form their community, physically disabled people can form communities, peculiar genders can form their communities etc.
The purpose of forming these communities is to create harmony among the members of the community and to bond them together. In order to enjoy membership of a community, people of the community often arrange events so that the community members can meet and greet, discuss their problems, initiate a mutual welfare cause etc.
This happens randomly in all communities but the communities that are properly made and are mature enough; plan their events using proper planners. Some communities make their monthly planners while others design their yearly planners.
A monthly community event planner can have different events. The ones that are usually arranged are given below
Movie nights
Antique shows
Park cleanups
Walking tours
Community workshops
Charity gets together
Occasional parties
Awareness events etc.
The benefit of arranging events in a community is that the people of the community get to know each other better and an effective society is formed. In the case such communities stand for their rights or for a cause, they're most probably supposed to get what they want comparing with individual citizens who are not members of a particular community because these people are powerful as they're united. Below is a modifiable sample of community event planner.
Preview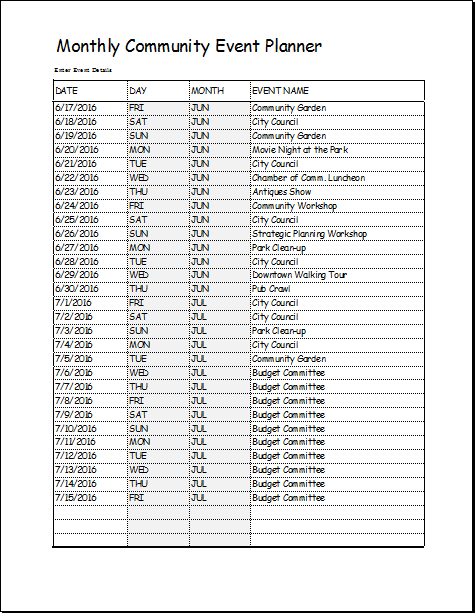 Download your file below.
Community Event Planner Template
File Size: 124 KB
---